Everyone likes to appoint the young NBA prospects as either the next big thing or the next big bust in NBA history. Chances are it is too early to make either call. Some of the players we will take a look at have never played a NBA minute. For some that is enough to lean either towards bust or towards future NBA star. It may not be fair..... But we are going to do it anyway.
What makes a bust? Sometimes a skillset just doesn't transfer to the NBA. Sometimes the situation of the franchise is just too much for a young player to overcome, and sometimes the drive is lost, having made it to the NBA spotlight with NBA money. It is hard to say, but we have seen some top NBA draft picks come nowhere close to living up to their hype (see: Kwame Brown, Michael Olowokandi).
How early is too early to talk about just how good a prospect is going to be? Ben Simmons hasn't suited up for a NBA game yet, having sat out the entire 2016-2017 season to injury. But when analysts, fans, or NBA personnel talk about the 76ers, Simmons is regarded as a centerpiece to a bright future. All this for an unproven commodity. Simmons sat out a year and it seems the hype has only grown.
For this list, we will go no further back than the 2014 draft all the way to the current wave of players that just entered into the NBA by way of the 2017 NBA Draft. Those players just got done enjoying their NBA Summer League, while some players from the 2014 NBA Draft are already borderline NBA All-Star inclusions.
22

Bust - Dragan Bender
Here is what one of those "situations" we talked about. Dragan Bender entered the NBA as a 18 year old rookie from Croatia. A 7-foot-2 skilled big man, who seemed to, and could still be the future of the Phoenix Suns' front court.
Now the reason he is mentioned in a bad situation is because he is playing behind other, more polished, big men. Veteran Tyson Chandler commands the center positions, while Alex Len and Marquese Chriss also garner more minutes than the 19 year old. Bender rookie season ended in 13.3 mpg, 3.4 ppg, 2.4 rpg, and .5 bpg. Maybe he can turn it around, but Bender is leaning towards bust territory.
21

Star - Andrew Wiggins
One of the most proven players on our list, Andrew Wiggins was all the hype entering Kansas for his one year in college. The Canadian native brought with him all the accolades from high school, and his 17.1 ppg in college did not disappoint. It was enough to make him the number 1 pick in the 2014 NBA Draft. As we know the Cavaliers made the pick but would use it to land Kevin Love to help form a experienced big 3 in Cleveland. Wiggins would go on to earn NBA Rookie of the Year, and has continued to improve each year in the league. His 3rd year averages included 23.6 ppg, 4.0 rpg, and 37.2 mpg. All the while improving his 3 point shot from 30 percent to 35.6 percent .
Wiggins is paired with Karl Anthony Towns and now Jimmy Butler in Minnesota to perhaps bring the Timberwolves back to the championship conversation.
20
19

Bust - Kris Dunn
Kris Dunn was a highly coveted pick coming out of Providence for the 2016 NBA Draft. Dunn brought with him college career highs of 16.4 ppg, 7.5 apg, 5.5 apg and a three point shot that improved each year he was in college. The Timberwolves used the 5th pick on the point guard. The team was already sporting Ricky Rubio at the point at the time of his selection, but to most Dunn figured to the be the future. Well, come his second season and Dunn is now in Chicago. The Timberwolves used Dunn, Zach Lavine, and Lauri Markkanen to acquire veteran Jimmy Butler.
Dunn will get the minutes in Chicago, but most will probably prove to be empty minutes as Chicago figures to struggle through a lottery-bound season in 2017-2018.
18

Star - Joel Embiid
It really was hard to include Joel Embiid. He has played a grand total of 31 games in three seasons since he was drafted 3rd overall by the Philadelphia 76ers. That being said, if you have seen him play, it is obvious that he could be something special. He's maybe even the most special player on our list, BUT he needs to be on the floor to do that.
Embiid is a tenacious rim defender that developed a soft touch from the free throw line and beyond the three-point line. "The Process" also possesses post moves that have had him compared to Hakeem Olajuwon. He may sport the biggest question mark around his health, but there is no denying Embiid probably also sports the best game on our list.
17

Bust - Jahlil Okafor
And filling in for Joel Embiid when he can't play was the Duke product Jahlil Okafor. Okafor looked like a solid pick by the 76ers during his rookie campaign. He was able to put together a NBA All-Rookie First Team performance following a NCAA Championship at Duke University. All that seemed to change rather drastically once Joel Embiid was announced healthy for the 2016-17 season. Embiid would grab the starting center role and never give it up until injuries once again struck.
Okafor looked lost and uninterested in his new role, as Philly even gave Richaun Holmes more of a shot when Embiid was hurt. There was zero motivation on the defensive side, and his rebounding motor left a lot to be desired. Maybe the situation just doesn't suit him, but if he doesn't show some dedication, then why would someone give him chance elsewhere?
16

Star - Dennis Smith Jr.
With a little less hype to live up to than Lonzo Ball, Dennis Smith Jr. also landed on this list due to his showing in the NBA Summer League. Smith was the 9th-overall pick in the 2017 NBA Draft, and the Dallas Mavericks may have landed their next big thing. He showed athleticism at the point guard position that brought us back to the time when Derrick Rose was entering the league. With extreme athleticism jumping off both feet to throw it down, Smith will be able to translate to the NBA game almost right away. With veterans Dirk Nowitzki and Harrison Barnes to guide the way, Smith is set up for success.
15

Bust - Mario Hezonja
The Orlando Magic used the 5th-overall pick in the 2015 NBA Draft on Mario Hezonja. So far he has regressed from his rookie season to his second season with not too many reasons that he will show improvement in upcoming years. The next great International player is something that teams have trying to track down since Dirk Nowitzki, Manu Ginobili and a few select others have put together Hall of Fame careers.
For a Orlando Magic team where playing time should be of abundance, Hezonja is managing just 16.5 mpg, 5.5 ppg, 2.2 rpg, and 1.2 apg for his young career.
14

Star - Ben Simmons
Another player that hasn't stepped on the floor for a NBA regular season game as of yet, Ben Simmons' hype meter continues to rise as his debut approaches. Simmons has even drawn comparisons to Magic Johnson and LeBron James despite just one year at college and nothing more than a summer league showing LAST summer.
Still the tools, size, vision, and fluidness are all there. All signs point to Simmons being able to live up to the hype and take his game beyond expected. Alongside Markelle Fultz, Joel Embiid and Dario Saric, the young 76ers core could be on their way to setting a new winning tradition in Philly.
13

Bust - Emmanuel Mudiay
Emmanuel Mudiay was known for foregoing playing at SMU under coach Larry Brown to play professionally in the Chinese Basketball Association before being eligible to enter the 2015 NBA Draft. Mudiay would go 7th-overall to the Denver Nuggets. He put together a NBA All-Rookie Second Team campaign his rookie season, but in his second season, his usage and production would take a hit. Mudiay has even found himself in trade rumors.
Mudiay has started 107 out of 123 games since entering the league. He has averaged 12 points per game, but his 36.9 field goal percentage has left something to be desired. At just 21, Mudiay does have the time and skillset to flip the script, but thus far we thought we'd see more.
12

Star - Donovan Mitchell
Maybe the least known player on the "Star" side of our list, Donovan Mitchell was taken 13th-overall in the 2017 NBA Draft. The Nuggets then traded the Louisville guard to the Utah Jazz where he would participate in the NBA Summer League. There he proved to be more than expected, at least to this point in his young career. Mitchell showcased tenacity on both ends of the floor, and a willingness to take over games for the Utah Jazz team. It may be too much to hype a kid after being drafted 13th and playing in only summer league games, but the Jazz just lost franchise centerpiece Gordon Hayward, and the opportunity will arise for Mitchell to make his name known in Salt Lake City.
11

Bust - James Young

[caption id="" align="alignnone" width="630"]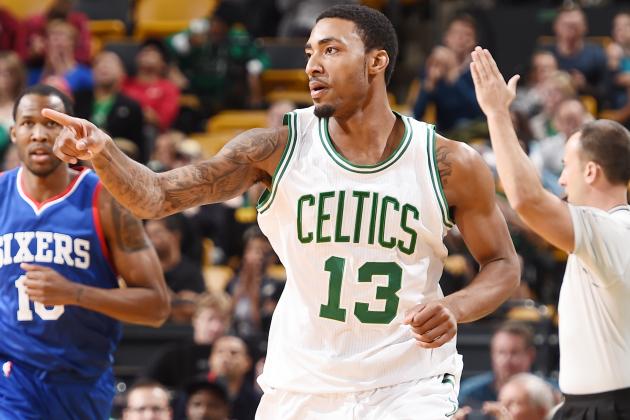 via bleacherreport.com[/caption]
James Young continues to find himself on the wrong side of our NBA articles. Young seemed to be a silky smooth shooter coming out of Kentucky. His offensive game was enough for him to be drafted 17th overall by the Boston Celtics. Young was drafted on the heels of one season in college in which he averaged 14.3 points and was named to the Final Four All Tournament Team. Thus far at age 21, his game has failed to translate to the NBA, and Young has actually been more frequent to the NBA Gatorade League rather than the NBA game. Young has appeared in 89 games, starting zero, and has averaged just 2.3 ppg to this point of his NBA career.
10

Star - Dario Saric
It is not very often that a player as skilled and that had as good a rookie season as Dario Saric is the 4th-most promising prospect on a NBA roster. Dario Saric hit the ground running in his move to the NBA game. The Croatian native played professionally in Turkey before making the move. He and Joel Embiid finished in the top 3 of the NBA Rookie of the Year voting, and the future still was yet to include Ben Simmons or Markelle Fultz. Saric has showcased a skillset that will fit him nicely into Philadelphia's future plans as the years continue to show improvement. Saric's stat line resulted in 12.8 points and 6.3 rebounds in 2016-17, but his inability to hit the rookie wall or show major signs of adjustment to the NBA game is what was most impressive in season one.
9

Bust - Dante Exum
Before there was Ben Simmons, there was Dante Exum. An Australian point guard who stood at 6-foot-6, Exum was a highly-hyped commodity for years before entering the 2014 NBA Draft. There he would be taken 5th overall by the Utah Jazz. An injury did force Exum to miss the entire 2015-2016 season, but the seasons that preceded and proceeded the injury both left something to be desired. To this point, Exum has averaged just 5.4 ppg, 2.1 apg, and 0.4 spg in 20.6 minutes per contest.
Now at age 22 and two seasons removed from injury, many experts believe this is the season that Exum must live up to his potential. With Gordon Hayward now in Boston, the ball will find its way into Exum's hands more, so it's time to show what he was once destined to do.
8
7

Star - Lonzo Ball
Lonzo Ball's first NBA Summer League game had the world prematurely labeling him a bust. After one game! Now by the end of the Summer League, the NBA world is projecting that he will indeed be the Los Angles Lakers' next big star. He showed poise in finding his teammates with smooth dishes, and seemed to know when he needed to get to the rim and finish those attempts.
Ball has/had a lot of people rooting against him due to his outspoken father, LaVar. Well, hate it or love it, it doesn't look like it is going to effect Lonzo one way or the other. Once he gets that confidence going on a NBA floor, he is going to be fun to watch.
6

Bust - Nik Stauskas
Nik Stauskas' 2016-2017 season was his best across the board. Stability and stats had improved and Stauskas looked comfortable for the first time in his career. For some players that would be fine. But for the 2014 Big Ten Player of the Year who was drafted 8th-overall by the Kings it has been a very slow start to a career. Stauskas spent one underwhelming season in Sacramento before being almost given away to Philadelphia. There he would find more playing time and a better atmosphere. Perhaps he will go on to have a nice career as a backup but when he was taken in the top 10, a career 7.5 ppg is probably not what came to mind.
5

Star - Nikola Jokic
Nikola Jokic enjoyed a nice breakout season in 2016-2017. He showed promise during his rookie season, earning NBA All-Rookie First Team while averaging 10.0 ppg, 7 rpg, and 2.4 apg, in 21.7 minutes per game. In year two, the Nuggets came to find that they really had something special in Jokic – an all-around game that upped in production at all levels. Passing even became a great weapon for the 6'10" Serbian power forward. The big man would finish the season with 6 triple-doubles and end up 2nd in the NBA Most Improved Player voting. The Nuggets have been stuck in a weird world of mediocrity since Carmelo Anthony's departure. It looks like they have their centerpiece in place to begin building around.
4

Bust - Doug McDermott
Dougie McBuckets. Doug McDermott showed an ability to fill it up on the offensive end during his time at Creighton. He put together historic college seasons which resulted in three First Team All-American honors, a National College Player of the Year, the 2014 NCAA Scoring Championship and Big East Player of the Year. He was then drafted 11th-overall by the Denver Nuggets who moved him to the Chicago Bulls promptly.
His rookie season was full of inconsistent play. McDermott was supposed to aid the Bulls' shooting and scoring, but at the end of his rookie campaign, McBuckets appeared in 36 games and scored just 3 ppg. He did improve on that rookie season, but has still failed to make his mark on a NBA role, even after a move to Oklahoma City.
3

Star - Jamal Murray
Like we mentioned Nikola Jokic earlier, it seems that the Denver Nuggets finally have something to build around again. Since the departure of Carmelo Anthony it seems that Jamal Murray and Jokic will be the best young combination since then. After posting 20.0 ppg in his lone season at Kentucky, Murray was picked 7th-overall in the 2016 NBA Draft. After a bit of a slow start to his rookie season, Murray was able to improve his game and finish with a NBA All-Rookie Second Team year, which included a Rising Stars MVP, and a ppg average of just below 10. Murray also showed promise with a career-high 30 points, and two Western Conference Rookie of the Month honors.
2

Bust - D'Angelo Russell
D'Angelo Russell has had an odd start to his NBA career. A smooth-shooting lefty out of Ohio State, the Los Angeles Lakers used the 2nd overall pick in 2015 NBA Draft on the 6-foot-5 inch point guard. The pick was a popular one, and Russell showed an ability to knock down big shots in his first two seasons in the league. He upped his averages from 13.2 ppg to 15.6 ppg, 3.3 apg to 4.8 and his free throw and 3-point percentage improved as well. The problem was the Lakers once again finished the season with one of the worst records in the league, therefore landing a top spot in the draft. There they had their eye on point guard Lonzo Ball, so it was D'Angelo Russell that would be traded to the Brooklyn Nets during the offseason. Stats may come in Brooklyn, but more losing is sure to follow.
1

Star - Karl-Anthony Towns
Karl-Anthony Towns' college stats weren't going to jump off the page at you. With just 10.3 ppg, 6.7 rpg, and 2.3 bpg, Towns put together a solid year at Kentucky, but it was his play in the NCAA Tournament that really jumped out. KAT showed the ability to continue to improve on both ends of the floor. Oftentimes, he was ranked behind the previously mentioned Okafor in the NBA Draft rankings. The Timberwolves saw what could be and made Towns the number 1 overall pick in 2015. Good thing they did.
As we mentioned above, Okafor is floundering, and Karl-Anthony Towns was considered by many to be snubbed for the All-Star Game in his second season. Towns put up 25.1 ppg, 12.3 rpg, and 1.3 bpg while shooting 54.2 percent from the field, 36.7 percent from 3 point, and 83.2 percent from the free throw line. Much like Joel Embiid, Towns shows touch from all parts of the floor. That's a lethal combination that will propel the Timberwolves back into the playoffs.