The NBA, more so than any other pro league, is a star-driven league. The biggest names and best players in the world are who make the games and storylines so intriguing. But what's better than having one star on a team? Two stars on a team and the NBA has had pairings that go together as well as peanut butter and jelly. Jordan and Pippen, Stockton and Malone, Russell and Cousy: these are some of the greatest superstar duos in not only NBA history, but in sports history.
But there is something that all three of those superstar teammates had in common: they liked and respected each other. They considered each other friends and their connections extended beyond the court. For example, Scottie Pippen was a guest at Michael Jordan's wedding in 2013 and Jordan was the one who inducted Pippen into the Pro Basketball Hall of Fame. You don't need to have a great relationship with your superstar teammate to be successful, but it certainly doesn't hurt.
However, on the other end of the scope are the sets of superstar teammates that hate each other. I'm not talking about duos such as Michael Jordan and Kwame Brown or Kobe Bryant and Smush Parker; I'm talking about Hall of Fame worthy teammates who just can't stand each other. We'll take a look at the most infamous of these pairs and go into detail as to what drove their mutual dislike. You won't find these guys sharing a banana boat as we take a look at 15 NBA superstar teammates that hated each other.
16

Scottie Pippen And Dennis Rodman
The beef between these two started a decade before they teamed up in Chicago as they were both key figures in the Pistons/Bulls rivalry. While the games between those teams were always rough, Rodman crossed the line when he committed a flagrant foul on Pippen by pushing him from behind in the 1991 Eastern Conference Finals: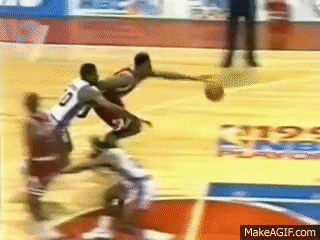 With that in mind, it comes as no surprise that when the Bulls were considering signing Rodman as a free agent in 1995, Phil Jackson invited Jordan and Pippen to his home in order to convince them that this was a good move. The move obviously paid off with 3 NBA titles but Rodman and Pippen never had a close relationship…or any relationship for that matter:
Dennis rodman said he played for the bulls 3 years and didnt have ONE conversation with scottie pippen of michael jordan thats crazy

— Snaxx cuh (@Snaxx11) September 20, 2011
15

Allen Iverson And Jerry Stackhouse
Jerry Stackhouse thought he was going to be the face of the 76ers after being the third overall pick in the 1995 draft. But just one year later the team drafted Allen Iverson first overall and from that day Stackhouse knew his days in Philly were numbered. The two had a power struggle as Iverson wanted to play two-guard but Stackhouse was at the position. The tension between the two turned into an actual fight as the two came to blows during a shootaround in 1997. The two would downplay the fight later on but Stackhouse described it as "It was a fight between one guy who doesn't know how to fight and another guy who didn't want to." Just a few months later Stackhouse was shipped to Detroit and the Sixers would make their new shooting guard, Iverson, the face of their franchise.
14

Shaquille O'Neal And Penny Hardaway
Shaq's first feud played a part in breaking up one of the most fun and exciting teams in the NBA. In just their second season together, the duo led the Orlando Magic to the NBA Finals despite each star being just 23 years old. But after four seasons, Shaq felt like a big fish in a small pond and even called the city of Orlando "a dried up little pond" on his way out of town. He signed the largest contract in NBA history with the Lakers and didn't feel the need to tell Penny or any of his other Magic teammates that he was leaving. Penny found out about the deal while he was at the 1996 Summer Olympics and said he was blindsided by the news. While Shaq would go on to win 3 rings in Los Angeles, Penny struggled with injuries which derailed what looked like a Hall of Fame career. Nearly 20 years after leaving, Shaq would say, "knowing what I know now, I would've stayed (in Orlando)." I'm sure that makes Magic fans feel a lot better.
13

Larry Bird And Kevin McHale
Bird and McHale may have been the best forward tandem in NBA history, but the two Celtics could not stand each other due to their different personalities. Bird was the quiet, serious member of those 80s Celtics teams while McHale was the team prankster who could easily get on your nerves. Bird would often poke and prod McHale in an effort to motivate him and once said that McHale "could be the best player in the league…if he worked harder." The Celtics' coach, Bill Fitch, also agreed with Bird and he asked McHale, "Why can't you be more like Larry?" to which McHale replied: "Because I have a life." This odd couple may have not hung out off the court but they were dominant on the court. They actually nearly became teammates in college as both were recruited by Indiana. But Bird dropped out of IU after one month and Bob Knight later rescinded McHale's Hoosiers scholarship because he thought he was too thin to play in the Big 10.
12

Kobe Bryant And Dwight Howard
Dwight Howard has feuded with other big names including Kevin Garnett and Kevin Durant, but Kobe is the only teammate who has outwardly clashed with him. They played together for just one season in LA and that was all Kobe needed to see that Dwight doesn't have "it." What is "it"? It's the desire to win a championship as Kobe would later say that Dwight wasn't comfortable with the challenge of winning a title. They mocked a fight (above) while they were teammates but after Dwight left L.A. for Houston, the two would have an on-court altercation and have to be separated by refs and teammates. Kobe called Dwight "soft" and yelled "try me" in the big man's direction after an elbow or two of Howard's came a bit too close to the mamba. But a new, peaceful Kobe emerged during his final NBA season and that was when he and Howard made up and put their issues behind them.
11

Kevin Garnett And Stephon Marbury
KG and Starbury were the hottest thing to hit Minneapolis since…ever? But ego and jealousy undid their once-tight friendship that started when they were in high school. Garnett, in South Carolina, and Marbury, in Brooklyn, would talk on the phone so much that KG's mother made him give her half of his Burger King check to help cover the phone bills. Everything was fine between the duo once they were teammates until KG signed his historic $126 million contract in 1997. When Marbury's contract came up one year later he was probably thinking he would top KG's deal but the Wolves offered him just $71 million. Marbury was insulted with the offer and just months later he was traded to the Nets.
He then joined Phoenix where he played with a rookie Amar'e Stoudemire and compared STAT to KG by saying Stoudemire is like Michael Jordan and Garnett is like Mario Elie! KG responded by saying "He's using (Stoudemire) to come at me…This is Steph being jealous." Time seemed to heal the wounds between the former friends and teammates as KG welcomed Marbury to join the Celtics in 2009 which was his last stint in the NBA.
10

LeBron James And Kyrie Irving
Not even a ring and three straight Finals could keep these alpha males from butting heads. Admittedly, it appears that there is more hate, or dislike, from Kyrie to LeBron as Kyrie's Id is taking over his Superego. Kyrie, perhaps, saw the success that Russell Westbrook and James Harden had last year as the only stars on their teams and thought, "I could do that!" Kyrie is on his way to being the 4th number one overall pick by the Cavs to leave the team in the last few years following Andrew Wiggins, Anthony Bennett, and LeBron (possibly twice). While many expected Kevin Love to be the Cav to finally say "enough of this LeBron passive-aggressive BS" and say he wants to be traded (and that could still happen); Kyrie beat him to the punch. Speaking of punches, that is the only thing missing from this beef but hands may still be thrown if the two of them get in the same room.
9
8

Scottie Pippen And Charles Barkley
Pippen was Michael Jordan's best teammate ever and Barkley was MJ's best friend in the NBA. But not even the common bond of the G.O.A.T. could keep these two Hall of Famers from butting heads. They seemed to co-exist during their one season together in Houston, but the truth came out once Pippen demanded, and received, a trade to Portland. Barkley said he was disappointed that Pippen left after one year because he had taken a pay-cut the previous season so Houston could bring him in. Pippen responded that Barkley is selfish and that he owed Pippen an apology "for coming to play with his fat butt." No word on if fences have been mended between the two but with the fact that Barkley is no longer friends with Jordan; there's a good chance he still doesn't think to highly of Pippen either.
7

Vince Carter And Tracy McGrady
The second cousins made it cool to root for the Toronto Raptors during their two seasons in The North. These are the guys we can thank for Andrew Wiggins, Tristan Thompson and so many other Toronto natives becoming basketball fans. While McGrady was a burgeoning star while with the Raptors, Carter was the star which was solidified by his epic slam dunk contest. When T-Mac's contract came up, he reportedly didn't even consider re-signing with the Raptors and ended up playing near home with the Orlando Magic. He wanted to be the man and he got to be the man as he was a two-time scoring champion with the Magic.
The two weren't on speaking terms after McGrady bolted and T-Mac's mother even stoked the flames between the cousins by saying her son was tired of hearing "Vince this. Vince that." When a member of the media asked Carter what he would do the first time Toronto played Orlando, Carter responded, "Pick a number between 30 and 50 (points)." Eventually the two realized this was a feud based on pettiness and they made up. Side note: it's amazing that Carter is still playing at 40 while T-Mac is going into the Hall of Fame this year…and he's still two years younger than Vince!
6

Chris Paul And Blake Griffin
Blake Griffin…DeAndre Jordan…Austin Rivers; pretty much anyone who put on a Clippers uniform over the last six years at one time or another had beef with Chris Paul. Griffin, in particular, didn't like the way Paul had a double standard when it came to himself and his teammates. Paul would often bark at and get on his teammates for any defensive mistake or careless turnover; however, if he made those same mistakes then he didn't want to hear a peep from his teammates about it. The fact that Paul's personality has been compared to Kobe Bryant's tells you all you need to know about what it's like to play with him. Paul also knew that he had the full support of both Doc Rivers and Steve Ballmer and he carried himself like he was above the other players. You could see why so many former Paul teammates say they respect him more than they like him.
5

Alonzo Mourning And Larry Johnson
To the best of my knowledge, this is the only pair on this list that got into an on-court fistfight and one that Jeff Van Gundy remembers oh so well. These two were teammates for three seasons but had problems from the beginning. In 1992 Johnson won the Rookie of the Year award and received a leather coat as a gift. He then taunted Mourning about the coat since Mourning was runner-up to Shaq for the award the following year. Zo left the Hornets in 1995 and Johnson departed a year later but they would meet again in many playoff series between the Heat and Knicks. The most infamous of those series came in 1998 when the beef between the two culminated in a fistfight in Madison Square Garden.
Neither one connected on any blows and Van Gundy might have gotten the worst of it by almost being trampled when he latched onto Zo's leg. It took Mourning's kidney disease in 2000 for the two to make up as Johnson went over to his former teammate, asked if he was doing okay, and shook his hand.
4

Jason Kidd And Jim Jackson
The Three Js of Jason Kidd, Jim Jackson, and Jamal Mashburn were supposed to be the second coming of Run-TMC but a rift formed between Kidd and Jackson over a famous R&B star. Legend has it that singer Toni Braxton went to a club with her date for the night, Jason Kidd, but ended up leaving the party with backcourt-mate Jim Jackson. As you could imagine, this Love Triangle caused incredible tension between the two and there was no way they could co-exist together. This betrayal of a teammate is 100X worse than what D'Angelo Russell did to Nick Young in 2016. The Mavs' organization didn't know who they should believe so they ended up trading away both players. Over the span of two months during the 1996-97 season, the Mavs traded away Kidd, Jackson and Mashburn. The Mavs would then tank the following season which enabled them to then get Dirk Nowitzki in the 1999 draft so things ended up working out for the team, but not the players.
3

Michael Jordan And Clyde Drexler
Many forget that Clyde Drexler wasn't part of the initial 10-man group selected for the Dream Team. He was added to the team, along with Christian Laettner, just one month before the 1992 Olympics began. That, along with the fact that the Bulls had just defeated the Blazers in the 1992 Finals, gave Michael Jordan all the trash talk ammunition he needed. Jordan was insulted that some people thought that Drexler was even in his class as the best shooting guard in the NBA. Thus, every day during Dream Team practices Jordan was in Drexler's ear reminding him of the Finals loss and that he was the last man picked for the team. Other players on the Dream Team even had to tell Jordan to back off a bit because they didn't want Drexler's confidence shaken before the Olympics even started. But it was too late as Drexler was rattled and went into a slump the following season. After averaging 25 PPG and taking the Blazers to the Finals in 1992, Drexler averaged just 19.9 PPG the following year and Portland was bounced in the first round of the 1993 playoffs.
2

Kevin Durant And Russell Westbrook
The Durant and Westbrook duo was as closely scrutinized as any NBA pairing since perhaps Shaq and Kobe. Just like Shaq and Kobe, these two had different personalities and that, in part, is what led to their split. Durant, Westbrook, and Nick Collison had dinner on the eve of free agency in 2016 in which Westbrook told Durant that he would change and become more of a pass-first point guard if it meant KD would stay in OKC. According to Westbrook, Durant also told them that he would stay with the Thunder. We all know that that did not happen but Westbrook found out about KD signing with the Warriors the same way that everyone else did: on social media.
Westbrook said that Durant didn't even tell him he was leaving until it was public knowledge and he did it via text message. They feuded throughout the 2016-17 season even though it was pretty one-sided with Westbrook throwing most of the jabs. They appeared to finally make up while sharing the court at the All-Star game and former teammate, Kendrick Perkins, confirmed that the former teammates are now on speaking terms.
1

Kobe Bryant And Shaquille O'Neal
Arguably the most infamous superstar feud in NBA history, Kobe and Shaq won three titles together before ego separated the two. Kobe thought that Shaq was always out of shape and didn't dedicate himself to the game while Shaq thought Kobe was a ball-hog and showboat. While no one, except Charles Barkley, has even gotten into a physical altercation with The Diesel, Shaq did slap Kobe once during a two-on-two game. The feud turned ugly when Kobe was arrested for sexual assault and in the police report Kobe was quoted as saying "I should have just paid women off like Shaq did." Once Shaq left the Lakers the feud didn't calm down any and how could it when Shaq rapped, "Kobe, tell me how my ass tastes."
In 2010 after Kobe won his fifth NBA title he was asked what that championship meant to him and he responded, "Just one more than Shaq." Things have appeared to simmer since then as they act like long-lost best friends when they see each other in public but you know deep down they still hate each other and likely always will.