For eight years, Kevin Durant and Russell Westbrook made up one of the most dynamic duos in the NBA, if not the most dynamic. While the two were never able to hoist a banner for the Oklahoma City Thunder, they made their mark as a force to be reckoned with throughout the years. However, that all changed on July 4th, 2016 when KD decided it was time for a change of scenery. Durant said "bon voyage" to OKC and decided to join forces with reigning MVP Stephen Curry in Golden State.
Upon doing so, Durant became persona non grata not just in Oklahoma City, but practically and and everywhere that wasn't the Bay Area. Durant had not just departed OKC, but he had left for a team that was already arguably (with the exception of the Cavs), the most stacked in the league.
Durant and Westbrook are clearly not on speaking terms today and it isn't hard to see why. But what cannot be changed is the eight years of history the two have as teammates. Here, we take a look at fifteen hilarious Kevin Durant and Russell Westbrook memes regarding their relationship.
15

Don't Blame KD, Blame Sam Presti

[caption id="" align="alignnone" width="600"]
via twitter.com[/caption]
Oklahoma City Thunder General Manager Sam Presti was responsible for drafting Kevin Durant, Russell Westbrook and James Harden in three consecutive years. Not only was Presti successful in finding one franchise player, but he had actually found three franchise players. However, everything came crashing down in the 2012 offseason when Presti balked at offering Harden (then a sixth man) the max contract he coveted. As a result, Harden was dealt to the Houston Rockets and has shown that he was clearly worth the maximum contract he desired. Harden is Westbrook's prime competition for the 2016-2017 NBA MVP award, yet these two could've likely raised a banner to the rafters by now had Presti extended Harden in 2012. To make matters worse, Presti chose to extend Serge Ibaka over Harden in a decision that must haunt him daily.
14

Russell Westbrook May Want To Change His Jersey Number

[caption id="" align="alignnone" width="625"]
via quickmeme.com[/caption]
Prior to Kevin Durant signing with the Golden State Warriors on July 4th, 2016, the Oklahoma City Thunder showed their aggressiveness by dealing Serge Ibaka for Victor Oladipo, Ersan Ilyasova and the 11th pick in the 2017 NBA Draft. Fresh off a disheartening Western Conference Finals loss to the Warriors in which the Dubs came back from down 3-1, the Thunder's brass realized they needed more to compete with the Warriors. Adding Oladipo allowed for the Thunder to have arguably the most athletic backcourt in the league, Ilyasova gave the team a sharpshooter and the eleventh pick allowed the team to grab a lottery selection. But when KD left for Golden State, Oklahoma City went from contender to a middle of the pack team in the West at best. As a result, Westbrook's jersey number will likely reflect his number of rings for the foreseeable future.
13

Russ and KD Swap Faces On Snapchat

[caption id="" align="alignnone" width="500"]
via me.me[/caption]
One of the more popular filters on Snapchat is the face swap and "Easy Money Sniper" and "Da Brodie" are just two (albeit two much more renown and recognized) more faces to participate in the action. While Durant seemingly has no gripes with Westbrook, the same cannot be said about the UCLA Bruin. When asked by reporters if he and Durant were on speaking terms earlier in the regular season, Westbrook simply replied "nah." Thunder Nation certainly misses these times as it reminds them of better times as the two were one of the NBA's most dynamic duos in their eight years together. Now, the man on the left is persona non grata. Then again, since he has Westbrook's face in this meme, is he revered or is he loathed?
12

Durant And Westbrook Argue About Who Chris Bosh Resembles

[caption id="" align="alignnone" width="519"]
via twitter.com[/caption]
It's no secret that Chris Bosh has been compared to looking like a raptor. Once Bosh opted for a shorter haircut, the comparisons largely dropped off; nonetheless, the raptor resemblance is something that Bosh will seemingly never be able to shake. In this meme a young Durant and an even younger-looking Westbrook clown on Bosh. Durant goes with Rugrats character Reptar, whereas Westbrook opts for the big screen dinosaur known as Little Foot from Land Before Time. While the two are poking fun at Bosh with a joke that never seems to get old, Bosh is enduring his own battle at the moment which is no laughing matter. In his quest to make it back to the NBA, Bosh and the Heat have a difference of whether or not he's fit to play pro basketball anymore. Hopefully, fans see Bosh, one of the most skilled bigs in the league, back soon.
11

Russell Westbrook Reminds Us He Is Not A Point Guard

[caption id="" align="alignnone" width="960"]
via quickmeme.com[/caption]
In his eight years playing Robin to Durant's Batman, Westbrook not once averaged under 5.3 APG. In his final season with Durant, Westbrook hit double digits for the first time in the passing department as he put up 10.4 APG. Regardless, Westbrook could never shake the image of being one who was resistant to pass to Durant, especially in clutch moments. Here, Westbrook reminds us all that he is a PG, and what that PG stands for Point Guard not Pass Guard, poking fun at how he is not responsible for passing. For those highly immersed in the statistics side of basketball, it's a nonsensical argument to criticize Westbrook for his lack of passing the ball as he averaged 7 or more dimes in six of the eight seasons he played with Durant.
10

Kevin Durant Wants Pizza Rolls

[caption id="" align="alignnone" width="613"]
via nbahotshots.com[/caption]
The "pizza roll" meme is synonymous with the Oklahoma City Thunder and a number of renditions have been made of it. Here, Kevin Durant looks laser-focused on LeBron James' arm, and with his love for pizza rolls, it's easy to see why. Having an affinity for ink himself (despite his arms being noticeably absent of any), perhaps Durant is pondering whether or not it is time for him to add a pizza roll to his ever-growing canvas. After all, considering his fellow co-stars Harden and Westbrook do not sport any ink (not then and not today), tattooing a pizza roll(s) would instantaneously give Durant cool points. The Durant and Westbrook relationship may or may not be damaged beyond repair, but the pizza rolls will not be forgotten!
9

How Everyone Felt After Durant Signed With The Warriors
Unless you were from the Bay Area, you were likely upset and/or angered upon hearing that Durant had decided to depart Oklahoma City for greener pastures in the Bay Area with the Warriors. The consensus from a number of NBA fans was that the Warriors would now simply be unstoppable. They had just set an NBA regular season record with 73 wins and now had added who most thought was the second-best player in the league to their team. Not to forget, the Warriors also had the two-time defending MVP on their team, Stephen Curry, had two other all-stars in Draymond Green and Klay Thompson, and one of the NBA's best sixth men in Andre Iguodala. Is it a shocker that the NBA wished to cancel the season?
8

Steph Curry Gives His Opinion On Westbrook's Pregame Dancing
Along with former Oklahoma City Thunder backup point guard Cameron Payne, Russell Westbrook formed a duo that would come up with innovative dances prior to tip-off. The fully-focused Westbrook on the court was able to show a more playful demeanor of his when participating in the dance rituals. However, Steph Curry has a little fun in this meme by saying "y'all ain't doing all that pre game dancing now". Well, not only did Westbrook lose KD for the 2016-2107 season, but he also lost his dance partner, Payne, as he was traded to the Chicago Bulls. The Oklahoma City Thunder are unlikely to find one of Durant's caliber to pair alongside Westbrook anytime soon, but perhaps finding Russ a new dance partner will be an easier task.
7

Enes Kanter Acknowledges Durant's Departure
With the exception of Russell Westbrook, Enes Kanter has vocally been the player on the Thunder that's been most supportive of Westbrook and most disparaging of Durant since the former swingman decided to take his talents to the Bay Area. When the announcement had become public, it sent shockwaves through NBA circles. While Warriors fans were rightfully celebrating, other NBA fanbases were panicking and the Thunder fanbase was full of emotions, none of which were positive ones. Kanter, a teammate of Durant's (at the time), was able to crack a smile despite the fact that he had to know his team would regress. Kanter's since jawed at Durant in meetings that the Thunder and Warriors have had in the 2016-2017 season, and it's safe to say that there's no love lost between the former two teammates.
6

Russell Westbrook Wants To Play Doodle Jump

[caption id="" align="alignnone" width="640"]
via pinterest.com[/caption]
Kevin Durant has a number of sponsorships with two of his most popular being Nike and Sonic. At one time, Durant was also sponsored by cellular phone distributor Sprint. In one of his more memorable commercials, Durant was shown having quite the gripe with the game Doodle Jump, as he called out those who chose to download the popular game as opposed to watching a game-winner he had hit. Westbrook, not wanting to get in trouble with his co-star politely asks Durant for his permission to play the popular mobile game. After all, it doesn't look like either Durant or Westbrook will need to provide late-game heroics for this particular game. So in regards to Westbrook playing "Doodle Jump," let's just quote Russ and say, "why not"?
5

Morpheus Gives His Input On The West's Best Player

[caption id="" align="alignnone" width="612"]
via whatdoumeme.com[/caption]
When this meme was created, many may have questioned if Morpheus was talking about the purple and gold pill (Bryant) or the "thunder blue," sunset, yellow and dark blue pill (Durant). Today, this meme may not resonate as well as individuals such as Stephen Curry, James Harden, Kawhi Leonard and a former teammate of Durant's by the name of Russell Westbrook have a case for being the West's best player. Not to mention, the "Black Mamba" has hung up his Nikes for good as he retired at the conclusion of the 2015-2016 NBA season in quite the going-out party. However, during the early years of the decade, the majority of fans would tell you that not only was the best player in the West either Bryant or Durant but ironically that both their first names started with a K and that their surnames ended in a "ANT".
4

The Contents Of Kevin Durant's Backpack

[caption id="" align="alignnone" width="590"]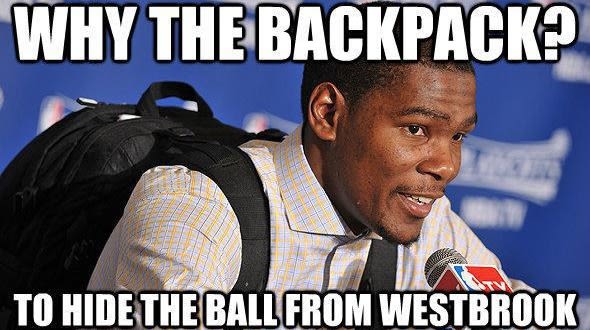 via pinterest.com[/caption]
At one point seeing Kevin Durant at press conference with a backpack was as normal as seeing Russell Westbrook show up to a press conference with a ridiculous (or "Russdiculous") outfit. It wasn't uncommon for reporters to ask KD what the contents of his backpack were. However, while the true contents remain a mystery, it seems like this meme has not just unraveled the contents, but solved the mystery once and for all. During their tenure on the Thunder, Westbrook was often chastised as being a ball hog and not deferring to Durant enough. Fed up, Durant took matters into his own hands and decided that the only way for Westbrook to not get the ball was to hide it in his own backpack! Smart man, KD, smart man!
3

Russell Westbrook, Fashion Icon

[caption id="" align="alignnone" width="599"]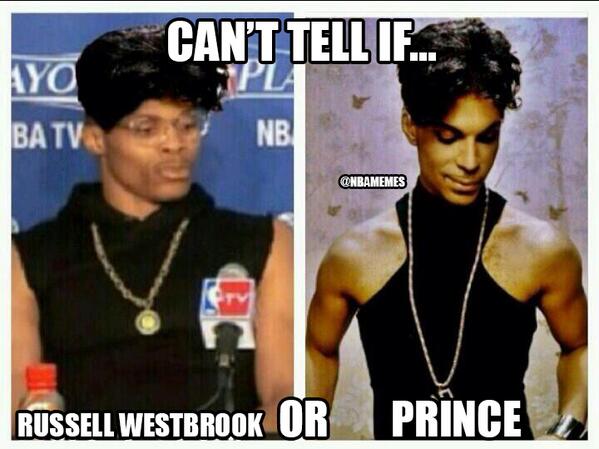 via twitter.com[/caption]
Russell Westbrook's outfits are about as polarizing a topic in the NBA today as anything. There are those that feel Westbrook is a fashion icon with his bold choices. There are others that feel Westbrook must not own a mirror and is the real true reason as to why he wears what he wears. In this meme, Westbrook's got quite the hairdo going on as his short fade has been replaced by a longer style that mocks the hairstyle of the late great Prince. But what isn't Photoshopped is the outfit, and Prince and Westbrook are both sporting a similar look from the sleeveless shirt to the gold chain. This isn't a case of who wore it better; this is a case of neither should have worn it, period!
2

The Almighty Based God And His Curse

[caption id="" align="alignnone" width="800"]
via thesource.com[/caption]
Oakland-based rapper Lil B and Kevin Durant weren't the biggest fans of each other upon Durant saying that Lil B's music was "wack." To add more fuel to the fire, Durant also said he was unable to fathom how people could listen to Lil B's music. Lil B proclaimed that unless and until Durant played him one on one, he would be cursed and would not win a ring. Now, Durant never ended up playing Lil B in the game of one on one, but the curse was lifted. The curse was lifted upon Durant signing with the Golden State Warriors, who are coincidentally Lil B's favorite and hometown team. The Warriors may need to put the Based God's number in the rafters considering he may have had a little something to do with Durant coming to the Warriors.
1

KD The Cupcake
First started by former Oklahoma City Thunder big man Kendrick Perkins, Kevin Durant and Russell Westbrook took a liking to the term "cupcake." Cupcake was a term that the two, as well as Perkins and other teammates, used when a player wasn't giving it his all and was playing soft (like a cupcake). In his return to the "Sooner State", fans sported cupcake shirts (as well as KowarD shirts) as they viewed Durant as such. Durant didn't just depart OKC, he departed OKC for a team that just won seventy-three games, defeated the Thunder in the Western Conference Finals and had been to back-to-back NBA Finals. Moreover, Durant took the easiest route to a championship. The cupcake moniker for KD isn't going away anytime soon, if at all.