The 2017 NBA Draft takes place on June 22. The Playoffs are winding down to the conference's final round, and the usual suspects are back in the mix. It seems we are heading towards Cleveland Cavaliers vs Golden State Warriors III, and the rest of the teams will find themselves planning how to one day make their franchise into one of the perennial participants in the NBA Finals. The teams atop the draft will be looking to add franchise cornerstones through the NBA Draft, as the Cavaliers did with LeBron James and Kyrie Irving, and as the Golden State Warriors did with Steph Curry, Klay Thompson, and Draymond Green. There is the unique situation of the number 1 seed Boston Celtics drafting number 1 overall, via the infamous Kevin Garnett and Paul Pierce trade with the Brooklyn Nets.
Teams will be looking to land their next big star through the draft, and by wheeling and dealing assets around the time of the draft. Franchises can benefit off of other rebuilding projects and look to speed up the process to the top. Some moves will seem drastic and desperate and have the chance to set the team back further. Some moves, on the other hand, will end up being just the risk needed to assure a run at contender status.
15

Pays Off - Team Grabs Malik Monk Outside Top 5
One thing we know is Malik Monk can shoot the basketball. Yet teams and experts are reluctant to view Monk as a top 5 prospect at this point. Defense, size, and the ability to get that shot off all seem to fall under the weaknesses that have teams in doubt. A franchise will see it different and likely land Malik Monk in the bottom part of the top 10. This could turn out to already be the steal of the draft. We all know the 76ers are frontcourt-heavy and need to add a shooter to play alongside Ben Simmons as he serves as the primary ballhandler. Monk can step in and be a fit right away for the 76ers, Orlando Magic, Charlotte Hornets or even the New York Knicks.
14

Flop - Pacers Trade Paul George For Picks
The Pacers made it no secret that they were shopping Paul George during the trade deadline, and those rumors will heat up again as the playoffs come to a close. The Celtics, like with any other trade rumor, were tabbed one of the teams that could land George. They have the best draft assets, and are in need of a wing scorer to compliment the 5'8" Isaiah Thomas. There is also the fact that George has made it known he wants to play for the Los Angeles Lakers. The problem with that is the Lakers could potentially lose their draft pick this year to the Philadelphia 76ers if it falls outside the top 3. So would the Pacers want any of the Lakers young talent? Either way, the Pacers will not get equal trade value for the proven All-Star. Although the draft sports some talented guards, they are not Paul George.
13

Pays Off - Caleb Swanigan Is A Steal In 2nd Round
A sophomore out of Purdue University, Caleb Swanigan is undersized at the PF spot standing 6-foot-8. In today's NBA, that is not outside the norm. Swanigan possesses great footwork around the basket and can step outside with a smooth stroke from the perimeter. Swanigan has the ability to be the biggest 2nd-round steal in the 2017 NBA Draft. He has the ability to get to the free throw line and shoot 80 percent from the stripe. It's true that he is not a quick defender, so he may struggle to defend the small forward position. A stretch four that can thrive in the right system, Swanigan may not just be the steal of the 2nd round, but maybe the whole draft.
12

Flop - Justin Jackson Sneaks Into Lottery Spot
At 6-foot-8, Justin Jackson has good size and length for the small forward position. He had a polished offensive game in college that consisted of a mid-range stroke and a consistent floater to the basket. But not many players transition to the NBA with the thin frame Jackson possesses. To go along with his brittle frame, Jackson does not show the toughness he will need to succeed at the next level. His floater is sometimes a result of his unwillingness to go to the basket and get to the foul line. That will need to change at the next level. His overall determination on both ends does not seem like something that can translate into the NBA. At 6-foot-8, most coaches would want a player his size to be able to guard both forward positions. At this point, Jackson cannot be counted on to do that.
11

Pays Off - Jahlil Okafor Gets Traded For Picks
As we have discussed before, Jahlil Okafor is in need of a change of scenery. And the 76ers are in need of opening up his playing time to Richaun Holmes and their talented frontcourt. The trade will not highlight the NBA offseason, but it will pay off for both the 76ers franchise and Jahlil Okafor himself. A talented scorer around the basket, Okafor does have a place in this league. We learned this year that it is not beside Joel Embiid, Dario Saric, and probably not beside Ben Simmons. Simmons will need more of a big man with good footwork to roll with him to the basket. Okafor is more of a clear-out type player. The Bulls were interested before and could stand to be his destination. The Sixers will be looking for no more than a late 1st-round or 2nd-round pick to unload the center.
10

Flop - Zach Collins Goes Early
There is always that player that scouts fall in love with despite minimal success at the college level. Zach Collins does show have great size and coordination at 7 feet tall. He has the ability to run the floor and defend laterally. Despite having a lot of the tools a quality big man should have, Collins has not faced much NBA caliber talent in his one and only season with Gonzaga. In fact, Collins served as a backup center playing just 17.3 minutes per game. Most of his minutes came against reserve bigs like himself. Although he has the physical talent, coordination, and all the measurables, Collins is a project and will likely be one of the biggest risks in the draft. Often linked to the Charlotte Hornets at 11, anywhere in the lottery will be a big risk for a team that needs to get more value out of the 2017 NBA Draft.
9

Pays Off - Dennis Smith Drops To Dallas
A freshman out of North Carolina State, Dennis Smith was able to turn heads during his only college campaign. At 6-foot-2 he is a bit undersized but makes up for it with great athletic ability and explosiveness. Like Monk, Smith is projected outside of the top 5 in many mock drafts and has the potential to slide closer to 10. The Dallas Mavericks' odds have them picking number 9 overall. If Smith drops, the Mark-Cuban owned Mavericks should add him to their lineup to start the rejuvenation of their franchise. There's no denying Cuban's infatuation with his stars and team. If Smith is able to land in Dallas, he and the Mavericks will have taken a giant step towards their future. Smith can pair up with Harrison Barnes to form a duo to build around.
8

Flop - Orlando Magic Take Jayson Tatum
For the 5th straight year, the Orlando Magic took part in the NBA Draft Lottery. So far they have drafted Victor Oladipo, Aaron Gordon, Mario Hezonja, and Domantas Sabonis. Sabonis was moved with Oladipo in exchange for Serge Ibaka, who is no longer with the team. Hezonja has failed to take the next step, and we still aren't sure if Aaron Gordon really has a position in the NBA. There's also Elfrid Payton, who's done well as the 10th pick in the 2014 draft, but he was a draft day acquisition from the Sixers. The Magic need to nail this draft and they most likely will not.
One way they can come up short again is by drafting Jayson Tatum with their lottery pick. A Duke product, Tatum struggles with shot selection and tends to shy away from contact. The Magic need a sure fire starter and scorer and Tatum would present another project.
7

Pays Off - De'Aaron Fox Goes Before Lonzo Ball
A lot of conversation tends to debate between Markelle Fultz and Lonzo Ball as far who will go 1st-overall in the 2017 NBA Draft. While it looks like Fultz will go #1, don't be surprised if De'Aaron Fox slips in and goes 2nd-overall. Fox is a shifty, highly intelligent point guard with a quick first step. At 6'3", Fox has good size for the position and is able to push the ball up the floor with elite speed and quickness. He has shown the ability to improve other aspects in his game during his time and Kentucky and that should continue at the NBA level. It would not be surprising to see De'Aaron Fox off the board before Ball, nor would it be surprising to see him become the better NBA player.
6

Flop - International Player Goes Top 5

[caption id="" align="alignnone" width="600"]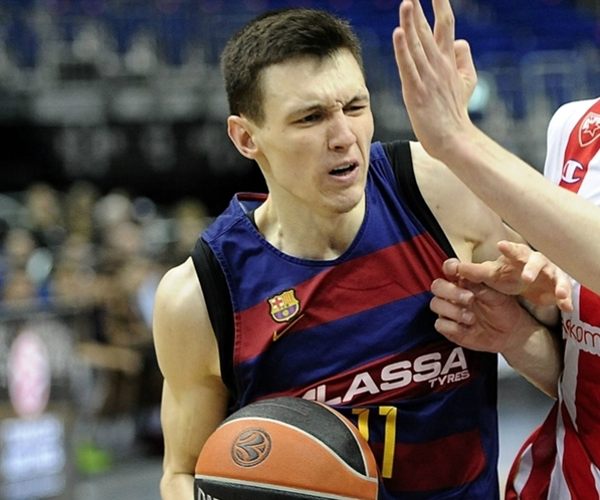 via draftexpress.com[/caption]
There is always that international name that pops up leading up to the year's NBA Draft. Slowly they will climb into the top 15, 10, and even top 5 of the NBA Draft selections. Last year, it was Dragan Bender at #4 and there will be another come this year's draft. Frank Ntilikina is a French point guard that has been moving up draft boards because of his size and speed combination. He's been compared to Dante Exum, but is that a good thing at this point? Rodions Kurucs from Latvia has made some headlines with his athletic wing play, but is coming off two major injuries and has never competed in the NBA game. If his body couldn't stand up then, it probably won't now. Other names will pop up and they may turn out to be good players, but the infatuation with finding the next international star has become an obsession for front offices.
5

Pays Off - 76ers Get Guard(s)
The logjam at center and the whole frontcourt has settled down a bit. Nerlens Noel and Ersan Ilysova were traded, and it looks like Jahlil Okafor will finally see his way out of Philadelphia as well. The 76ers are talented there, but their guard play needs a substantial lift. In this draft that should not be a problem. The 76ers own the 4th best odds at the number 1 overall pick and could possibly have two top picks, as they have the right to the Los Angeles Lakers pick should it fall outside the top 3. Regardless if they pick in the top 6, Philly should have no problem landing at least one guard that can come in and help right away. De'Aaron Fox would be the ideal fit at point guard. Malik Monk could supply shooting. If luck is really on their side they could land top prospect Markelle Fultz. Setting for Lonzo Ball doesn't seem to bad either. The 76ers will finally land some guard play.
4

Flop - Josh Jackson Goes 2nd Overall
Josh Jackson sits in that top 3 overall group with Markelle Fultz and Lonzo Ball. Jackson seems to possess all the makings of an All-Star. He is talented on both ends of the floor and has even drawn comparisons from NBADraft.net to Jimmy Butler and Kawhi Leonard. If that is to come to fruition, he needs to add one very big element to his game. He needs to learn how to shoot. That's a pretty big piece to an all-around NBA All-Star type player. If Jackson does indeed go 1st, 2nd, or even 3rd overall, the team will be looking at a project from a jump shot point of view. There are plenty of wings that are able to defend, and possess high basketball IQs on offense. That is why they are in the NBA. But no jump shot? Just another player.
3

Pays Off - Lakers Keep Their Pick, Land Lonzo Ball
The Lakers need something to go their way. D'Angelo Russell is on borderline bust territory, despite decent stats. Julius Randle has shown he belongs but is not the franchise cornerstone. Brandon Ingram showed flashes in his rookie season. At a young age, he still has the chance to show everyone what made him the 2nd-overall pick. Adding Lonzo Ball would speed up the process for everyone. It could help Luke Walton have a true NBA team to coach. It could help the front office know what they're building around. Lastly, the players would know whom they can learn to play with in the long run. A 6-foot-6 true point guard with all the offensive awareness and playmaking needed to take a team to the next level. His only weakness is his unorthodox jump shot and if he can get it over defenders. That can be fixed, and as awkward as it is, it will fall on open shots.
2

Flop - Bulls Trade For 1st Overall Pick
The Bulls began their rebuild last year when they were able to deal Derrick Rose, and cut ties with a prematurely aging Joakim Noah. They gave the mix of Rajon Rondo, Dwyane Wade and Jimmy Butler a try and it seems that they are now ready to move on from it all. Butler is still just 27 years old. Despite how deep this draft is talent-wise, mainly at the guard position, Butler is already a proven perennial All-Star. Does it make sense to move on from a sure thing to risk the chance at an NBA bust? Chicago seems poised to find out and it could cost them a lengthy rebuild process if it doesn't pan out. The Celtics are known to have been looking to add a talented wing that can score and provide All-Star caliber play on both sides. And although it may not pan out for the Bulls, it will definitely benefit the Boston Celtics. Check out why next...
1

Pays Off - Celtics Land A Star Via Trade
The Boston Celtics will be a player in both NBA free agency and the NBA Draft. With all the assets a franchise could hope for, the Celtics have the ability to mold their own roster in a way not many teams have had the chance to. Thanks to the trade that sent Kevin Garnett and Paul Pierce to the Brooklyn Nets, the Celtics have the number 1 overall pick. This should serve as a chip to possibly bring in a Paul George or Jimmy Butler, both of whom had been shopped at the trade deadline and both of whom were linked to the Celtics during that time. To put one of these NBA All-Stars on a roster with Isaiah Thomas, Al Horford and their roster of ideal role players could change the view on who owns the Eastern Conference. The Celtics' future could be scary for the East and the whole NBA.