Brock Lesnar's victory over Undertaker at WrestleMania 29 was one of the largest upsets in sports entertainment, and it stalled the Deadman's perfect 21-0 streak. The Beast's victory remains one of the most iconic moments in wrestling history.
On Thursday night, the Boston Celtics saw an impressive streak of their own come to an end. After winning 16 consecutive games, the Celtics dropped a 104-98 road game against the Miami Heat.
RELATED: LASHLEY IS OKAY AS PAUL HEYMAN'S 'SIDE CHICK' BEHIND BROCK LESNAR'S BACK
Boston's 16-straight victories tied seven other teams' for the 22nd-longest in NBA history, with the 1971-72 Los Angeles Lakers setting the golden standard after winning 33 consecutive contests.
The Heat's Twitter account also chimed in on the fun by dropping this savage and epic tweet after snapping Boston's sweet 16 streak:
The Celtics undoubtedly deserve their credit. They lost marquee free agent pickup Gordon Hayward - who fractured his tibia on the first game of the season - for the entire year. Other key players like Al Horford and Kyrie Irving have battled injuries, but the Celtics still posted an impressive win streak.
Since we're talking about the streak, it's also worth pointing out that we were disappointed that no other fan bothered to have the same reaction as internet sensation, Ellis Mbeh - the really shocked Undertaker fan:
[caption id="" align="aligncenter" width="599"]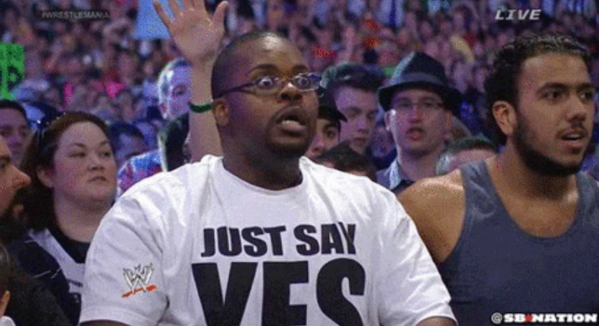 via SBNation.com[/caption]
The Heat were once the NBA's ultimate villains - when they signed Dwyane Wade, Chris Bosh and LeBron James in the summer of 2010. The new super team went to four NBA Finals together, winning the championship in 2012 and 2013. But after this epic tweet, it's safe to say many WWE fans will be behind them if they start snapping more streaks.
The Celtics had one epic run and are comfortably holding onto the top record in the Eastern Conference right now. Unfortunately for the Celtics, Lesnar and the Miami Heat are reminders that all good streaks will be conquered eventually.
RELATED: 15 NBA STARS THAT COULD HAVE BEEN A BOSTON CELTIC
The Toronto Raptors Show They Can Compete Against Golden State Warriors