With all of the fireworks that went off on the Fourth of the July in 2016, none were bigger or brighter than the ones in the Bay Area. It was on that date that Kevin Durant shocked the basketball world by taking the "if you can't beat 'em, join 'em" mantra to heart as he signed with the rival Golden State Warriors. Not only were the Warriors getting one of the greatest scorers in NBA history, but they were also getting the 2013-14 MVP. With Steph Curry having two MVPs of his own, this signified the first time two former MVPs under the age of 30 were teammates.
In their first season together KD and Steph did not disappoint as they won 67 games, won a record 15 straight postseason games, and won the franchise's second title in three years. Curry became the ninth player in NBA history to win 2 MVPs and 2 championships while Durant got the one thing missing from his resume: an NBA championship. KD also won the Finals MVP along the way and became the third player in NBA history to win 4 scoring titles and one championship.
Those are the things the NBA wants you to know about the Warriors' two biggest stars. But there are things out there that they don't want the general public or media to know about. The NBA always goes great lengths to protect its biggest stars and, outside of Cleveland, there are no bigger stars than these two. We will reveal some of those skeletons in the closet as here are 15 things the NBA doesn't want you to know about Durant and Curry.
19

Durant's Best Friend Is Draft Bust Michael Beasley
Yep, that Michael Beasley. KD and B-Easy have a couple of things in common. The first is that they both grew up in Maryland and played on the same AAU teams. They were also both the McDonald's Game MVP and the Big 12 Player of the Year. Another similarity is that they were both the number two overall picks in their respective drafts. A visible commonality they have is an unhealthy obsession with tattoos as Durant seems to get a new one every year while Beasley is tatted from chest to toe. While they experienced similar amateur success, they have been worlds apart as pros. Durant has accomplished everything there is to accomplish in the NBA while Beasley has been a journeyman who even had a stint in China. But if the likes of JaVale McGee and Nick Young can find themselves as teammates of Durant, don't rule out Beasley one day playing alongside KD before their careers wrap up.
18
17
16

Curry Has A Thing For Middle-Aged Women
A couple of years ago Curry was asked who his celebrity crush was. The then-27-year-old gave the names of two actresses: Sandra Bullock and Julia Roberts…Wait what?? Apparently instead of watching Rugrats and Dragonball Z during the 90s, Curry was busy watching Rom-Coms featuring these two Golden Globe winners. Bullock and Roberts have an average age of 51 which also happens to be the age of Curry's mother, Sonya. So one could conclude that Steph was very happy whenever his mom would invite her friends over for wine tasting or Bible sessions as a kid. Durant also likes older women as he dated a college senior while he was a freshman but Curry likes them much, much older.
15

Rachel Lindsay Of The Bachelorette Dated Durant
Lindsay was featured on the latest season of the Bachelor/Bachelorette series and is the first African-American to be the lead in the 33 seasons of the franchise. She is currently an attorney in Dallas but she is also an alumnus of the University of Texas where Durant spent one season. The two met at Texas when Durant was a freshman and Lindsay was a senior so apparently KD likes older women as well. According to US Magazine a friend of Lindsay described the couple as being in a "pretty serious relationship." The two broke up in 2007 when Durant was drafted and went to play in Seattle while Lindsay enrolled in Law School in Wisconsin. However, the split was amicable and the two remain friends with Lindsay even rooting on Durant in his quest for his first NBA title.
14

Curry's Mom Fines Him For Every Turnover He Makes
When you saw "Curry's mom" and "fine" in the same headline you likely thought I was going in another direction, but Momma Curry has implemented a fine system on her first-born. After becoming frustrated with Curry's sloppiness during his fourth NBA season, Sonya Curry set the bar at Steph's turnovers per game at 3. Anything more than that and he has to pay her $100 for every turnover. Steph has averaged 3.3 turnovers per game since that system was put into place so Sonya is walking around with a nice chunk of change. Thus, anytime Steph does this: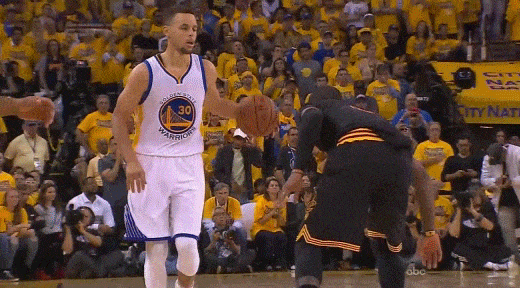 Sonya reacts like this:
So there you have it. Not only does Curry have to deal with the pressure of leading the best team in the NBA, but he also has to worry about paying his mom. It's all well and good though.
13

Wants To Bite A Certain Body Part Of Rihanna.. Really KD?
Everyone made a big deal about Rihanna showing up at the NBA Finals in Oakland where she rooted on her favorite player, LeBron James. Social media also went abuzz when either Rihanna or her friend sitting next to her jeered at KD while he was shooting free throws. Durant responded by giving a stare in Rihanna's direction as depicted in the photo above. But Durant used to be a HUGE fan of Rihanna if you go back in time and look at his Twitter account before he became a superstar. How big of a fan? Well, this Durant tweet will do a better job of explaining than I could do:
Durant has let some things about what he'd like to do to certain women slip before... As you'll see on the rest of the list.
12
11

Curry Called President Trump An A**
Curry has never been known as the political type but he couldn't help but give his opinion on the Commander in Chief. Curry is, of course, signed to Under Armour and the company's CEO, Kevin Plank, gave an interview in which he described Trump as an "asset" to the country. When Curry was asked about Plank's comment, he said, "I agree with that description if you remove the 'et.'" That prompted Curry and Plank to then have a discussion in which Plank said that his comment about Trump being an asset was only from a business perspective. Curry is arguably Under Armour's most-popular athlete so Plank wanted to make sure there weren't any feathers ruffled with the two-time MVP. Seeing how the most popular player on the defending NBA champions feels this way about the president, chances are slim that the Warriors will visit the White House when they play in DC next season.
10

Durant Thinks He Is Better Than LeBron
Apparently Durant believes that the fact that he won an NBA title (by joining a team that won 73 freakin' games the season before) makes him the best player in the league. Durant has a YouTube channel and just weeks after winning his first title, a LeBron James fan hijacked the comments thread and posted a message that LeBron is better than KD. Durant's response was "Nah":
What makes this even funnier as that there were over 300 comments but Joe Deezy was the only one that Durant responded to. We expected something like this from Kyrie Irving taking a shot at LeBron but not Durant who is friends with The King. Regardless, KD's head seems to be slightly bigger after his first title but he and his mom are likely the only ones that think he's a better player than LeBron.
9

Curry Once Said The Player He Most Wanted To Play With Was…Rudy Gay
Long before Curry hooked up with a 6'9" small forward from the DMV area by the name of Kevin Durant, he had his eyes on another one by the name of Rudy Gay. As a rookie Curry was asked in an interview which player around the league he would most want to play with and his answer was Rudy freakin' Gay. Perhaps Curry was intrigued by Gay's physical tools even though they always seemed to exceed his actual level of play. Curry said that Gay would fit in perfectly with the small-ball system that then-coach Don Nelson was running at the time. You know who else would have fit in with that system or any system? LeBron, Kobe, KD etc. Pretty much anyone except Chris Webber would have fit into Nellieball.
8

Tayshaun Prince Beat Out Durant For Team USA
Just a month after being drafted in 2007, KD was invited to Team USA's training camp for tryouts for the FIBA Americas Championship that August. As an 18-year-old who couldn't even do one rep on the bench press at the NBA combine, Durant was a long shot to make the squad. He did end up getting cut but it's a surprise who was picked over him at the small forward position. Wings such as Michael Redd, Mike Miller and Tayshaun Prince were picked over KD despite their talent level being nowhere near Durant's even at that age. Coach Mike Krzyzewski said he wanted outside shooting with his wings which helps explain the Redd and Miller selections; but Tayshaun Prince? Perhaps Coach K just picked the wrong skinny dude?
7

Curry Was Born In The Same Hospital As LeBron James
Despite appearing to be more Charlotte than even NASCAR, Curry was not born in the Queen City. He was actually born in the Midwest when his dad was playing for the Cleveland Cavaliers. Curry was born in Akron, Ohio which is best known for being the home of LeBron James. Both Curry and LeBron were born in the Akron City Hospital making it the only hospital in the country to produce 2 MVP winners. When Steph was 3 months old, Dell was drafted by the fledgling Charlotte Hornets in the 1988 expansion draft. That was when the Currys moved to the city which is where Steph, Seth, and Sydal Curry all grew up. The three Curry Kids also all went to colleges in the area as Steph went to Davidson, Seth went to Duke, and Sydal went to Elon. Dell Curry and Sonya Curry still live in Charlotte today as Dell works for the Hornets' broadcast team.
6

Durant Said Shaq Didn't Have Any Skill As A Basketball Player
The rat-tailed, shot-blocking, lob-catching center named JaVale McGee has been beefing with Shaq for who knows how long. When McGee and Durant became teammates in 2016, KD made it his mission to stick up for his oft-mocked teammate. After Shaq again went after McGee on a Shaqtin' A-Fool segment, Durant called out Shaq for not having any skill:
Shaq responded to Durant by saying that Durant can't talk to him because he hadn't (yet) won a championship. Durant then responded to that by saying Shaq feels vindicated in life because he's won a title. It wasn't until the Warriors contacted Shaq's employer, Turner Sports, that the feud between Shaq and McGee/Durant settled down.
5

LeBron James Went To Watch Curry Play At Davidson
Before they became bitter NBA Finals rivals and even before either had won an MVP, LeBron James was just like most of us: a fan of Steph Curry. LeBron was so much of a fan of Curry while in college that he went to one of Davidson's games just to see Curry in action. NBA players often go to college games to watch their alma mater or maybe a relative, but how often do you see the NBA's most popular player going to watch a mid-major player with whom he has no connection with? Four days after LeBron's visit, Curry then returned the favor as the Cavs were playing in Charlotte vs. the then-Bobcats. Curry and some of his Davidson teammates went to the game and afterwards they were invited to hang out with LeBron in the Cavs locker room. The two future MVPs then exchanged numbers and became texting buddies for a while but I'm guessing those texts stopped somewhere around June 2015.
4

Durant Called Dwight Howard A "P----" During A Game
Add Durant to Kobe Bryant and Kevin Garnett as league MVPs that have gotten into it with Dwight Howard on a basketball court. Except unlike Kobe and KG, Durant wasn't even in the game with he got into a spat with Howard. In a game in 2014 while Durant was in OKC and Howard was in Houston, Durant was injured but still wanted to give Superman a piece of his mind. There was a minor skirmish between the two teams, and while players were being separated, Durant strolled onto the court and shouted at Howard, "You're a Kitty Kat"…except he didn't use the phrase "kitty kat." Years later after Durant won his first title, Howard would then say that KD is the best player in the NBA so Howard either made peace with Durant or Howard is angling to join the Warriors.
3

Davidson College Refuses To Retire Curry's Jersey Unless He Graduates
Who is the most famous person to ever attend Davidson College? Steph Curry may very well be the answer but that doesn't mean that the school will relent on its long-standing rule of only retiring the jerseys of athletes that graduate. Curry left the school in 2009 after his junior year and went on to become one of the most famous athletes on the planet and maybe even the biggest ambassador of Davidson. He says he plans on going back to school and finishing his degree but Davidson complicates things by not offering a summer school program which is Curry's only available semester while still playing. The school also has a policy that prevents seniors from taking mostly online classes so that's also not an option. Thus, Curry will have to wait until he's retired to go back to school, finish his degree, and have his jersey lifted to the rafters.
2
1

Durant Thought That Curry Was White When He First Saw Him
The two Warrior MVPs are the same age and played on the same AAU circuit growing up. KD played in the DMV area while Steph played down in Charlotte. Their paths crossed in the summer of 1999 when Durant's team traveled south and played in a tournament that also featured Curry's team. I'll let KD take it from here:
"I told Steph this. I was about 10 years old and our AAU team drove down to Charlotte to play and there was this one—I thought he was white—this yellow kid, right? I'm just being real now, right? Where I come from, we don't see the light skin guys where I come from, it's all like guys like me."
Are we sure it was Steph that KD saw in the gym and not Klay Thompson?