The big man has died out in the current NBA game. No longer are the days of the big-bodied bruiser down low who would go to work on each possession. More often than not, the NBA center can be found not only outside the paint, but even outside the 3-point line.
It wasn't always this way. A big 7-footer was a commodity in the NBA game for generations. From Wilt Chamberlain to Shaquille O'Neal, a good big man was the centerpiece to most offenses. The offense would start with the point guard dumping it in to a skilled big man, and the big man and the offense would go to work from there. A good big man did not have to be a 7-footer. You may have heard of Bill Russell who was 6-foot-9, for instance. But it was always more fun seeing that big dominant presence down low.
Now, while teams were trying to find the next Wilt, Ewing, or Olajuwon, there were mistakes made along the way. Teams became so desperate in finding the next big centerpiece that some set their franchises back for years. Check out the 2nd pick in the 1993 NBA Draft, for instance. (We will discuss that one later).
The big man used to define basketball. So we are going to take a trip back to those days. Good or bad, let's remember some 7 footers.
15

Best - Dikembe Mutombo (7'2")
Dikembe never dominated the game on the offensive end. He didn't need to. His presence on defense was enough to dominate an entire game, while being formidable enough on the offensive side of the ball. As a Philadelphia 76ers fan, I was able to experience Mutombo but that was still towards the end of his career.  In fact, he came to Philly in the middle of his 10th year in the league. What did he do that year? Why, he just won his fourth NBA Defensive Player of the Year award, led the league in rebounds, went to his seventh All-Star Game, and helped the 76ers to the NBA Finals. Dikembe is a member of the Basketball Hall of Fame, and has his number 55 jersey retired by both the Atlanta Hawks and the Denver Nuggets.
14

Worst - Shawn Bradley (7'6")
We go from one 7-footer that helped the 76ers franchise to the NBA Finals, and move on to a 7-foot-6 center who derailed the 76ers franchise for years. The take on Shawn Bradley that he was a freakish athlete. Seriously. As we learned, he was an awkward 7-footer that did block shots, but was inconsistent in every other aspect of his game. He became more famous for being put on posters by players such as Tracy McGrady, or pretty much any other center during his time in the NBA.
The worst part is the 76ers used the 2nd pick in the 1993 draft on him. Who got picked after Shawn Bradley? Penny Hardaway, Jamal Mashburn, Allan Houston, and Sam Cassell, all of whom could have had great careers with the Sixers.
13

Best - Patrick Ewing (7'0")
He may have never gotten his ring, but Patrick Ewing changed the course of history for one of the biggest-market NBA teams. We all know the conspiracy surrounding the draft lottery that began Ewing's NBA career, but at the end of the day he played where he played and he did it well enough to become a Basketball Hall of Famer.
Standing 7-foot-flat, Ewing put together a career that consisted of 11 NBA All Star Games, including 10 straight. He made seven All-NBA Teams, which included one First Team and six Second Teams. Add his two Olympic gold medals and his NCAA Championship with Georgetown, and it is easy to see Patrick Ewing made his mark as one of the best 7-footers of all time.
12

Worst - Roy Hibbert (7'2")
Seven feet, two inches out of Georgetown. Roy Hibbert looked like a sure lottery pick following his junior season in college. The big man decided to go back to school and play his senior season. Following the season he was selected 17th overall by the Toronto Raptors and traded to the Indiana Pacers.
You can take a look at Hibbert's stats and think he must have been a serviceable big man. And at certain times, on certain plays, that was true. But he was inconsistent and known to take plays off. Although he sported numbers that were able to send him to two NBA All-Star Games and kept him as a starter for the better part of seven years in Indiana, Hibbert's motivation seemed to die out towards end of games, seasons, and now his career.
11

Best - David Robinson (7'1")
The Admiral. As NBA fans, our brains migrate to the Tim Duncan, Manu Ginobili, and Tony Parker era when we discuss the San Antonio Spurs. But let's also try to remember just how dominating David Robinson was upon entering the league.
The team wasn't always the perennial playoff team and championship contender they became during the Duncan era. Robinson joined a 21-61 Spurs team his rookie season. He then improved that record to 56-26, while earning NBA Rookie of the Year honors with a stat line of 24.3 points, 12 rebounds, 3.9 blocks, and 53 percent shooting. Robinson would eventually help the franchise, alongside Tim Duncan, to two NBA Championships. He added a NBA MVP Award and two Olympic Gold Medals along the way.
10

Worst - Steven Hunter (7'0")
For most big men, there is one of two things holding them back – the motor or their coordination. Steven Hunter may be one of the lesser known commodities on our list, but again it came down to motor and motivation. A 7-footer out of DePaul, Hunter played sparingly for the Orlando Magic and Phoenix Suns for the first four years of his NBA career. In his fifth season he joined the Philadelphia 76ers where he was given more minutes and opportunities to be a starting center. It still never came to fruition.
Hunter sports career highs of 6.4 ppg, 4.8 rpg, and just 0.9 bpg. If a big doesn't offer much offensively usually they clean it up on the defensive end and vice versa, but not in Hunter's case.
9

Best - Dirk Nowitzki (7'0")
Dirk Nowitzki is the most unconventional-style big man as far as our list goes. In today's NBA, he would have been the prototype for a starting center. Nowitzki is still playing, but in reality, he is just a shell of the dominant scorer we came to love.
Nowitzki began his career alongside All Stars Michael Finley and later Steve Nash. The three were able to help the Mavericks get their name back into the NBA spotlight. But by 2004, Nash had moved on and Finley was gone a year later. The Mavericks were officially Nowitzki's team, and by 2006, he led the team to the NBA Finals. Although he would fall there, he would get the franchise its revenge in 2011 when they became NBA Champions over the Miami Heat's big three of LeBron James, Dwyane Wade, and Chris Bosh.
8

Worst - ZhiZhi Wang (7'1")
After going back and forth between who would kick off this list between Yao Ming or Dikembe Mutombo, I decided this was the best chance to get Yao involved. Three years before Yao entered the league as the number 1 overall pick, ZhiZhi Wang was selected 36th overall by the Dallas Mavericks. He joined the team for the 2000-2001 season. He brought with him a Chinese Basketball Association resume that consisted of a CBA MVP, a CBA Finals MVP, and leading the league in blocks four times.
Whether it was just too much of a culture shock or the game just not translating quite right, ZhiZhi played just 136 games across 5 seasons before heading back to the CBA. ZhiZhi may have made our list but he was a pioneer for many players when he became the first Chinese player in the NBA.
7

Best - Shaquille O'Neal (7'1")
Hope Shaq never sees that he ends up fourth on my top 7-footers list. But after digging through an interview in which he praised Hakeem Olajuwon, it was himself who persuaded me into landing him here. We all know how dominant a force Shaq was from the moment he entered the league with the Orlando Magic through his time in LA. We can even sprinkle in the first couple seasons in Miami. He may have stuck around a little too long, but in his prime Shaq was an unstoppable force in the paint. That's something we do no get to see much of anymore.
Shaq has done it all. 15 All Star Games, Championships, Finals MVPs, League MVP, scoring championships, and Olympic gold medals, and to this day the guy is still a brand of his own.
6

Worst - Spencer Hawes (7'1")
We talked about how Dirk Nowitzki would be the prototype for the NBA center these days. Well, Spencer Hawes had that opportunity. He can stretch the floor decently, but the guy has never averaged better than 8.5 rebounds or 1.4 blocks per game despite standing 7-foot-1. A top 10 pick out of Washington, Hawes began his career as a member of the Sacramento Kings. From the start he was hoisting 3-pointers. His second season he put up 115, making 34.8 percent. By the time he left Sacramento, in 2013-14 he put up 308 3-point attempts spread out across Philadelphia and Cleveland, actually making 41 percent. Still, his play elsewhere on the court caught more eyes than his shooting. Hawes has bounced around with three more teams over the past three seasons.
5

Best - Hakeem Olajuwon (7'0")

[caption id="" align="alignnone" width="630"]
via ebay.com[/caption]
"Right before the (1995) finals — we had beaten Houston twice that year in Houston and in Orlando — Hakeem was good, but I didn't know that he was that good. I was in my own zone and wasn't really worried about anybody else. First play of the game, I gave him the patented Shaq 'bow, jump hook, 2-0. He just smiled at me. And then he came down and gave me [a move], shot a jumper and said, 'right back at you, Big Fella.' -- Shaquille O'Neal
That pretty much sums up Hakeem Olajuwon. He was a cool, calm, but dominating force. Moves so good down low and foot work so deceiving that it was hard to stay in front of the guy even with a help defender. A list of accomplishments that goes on for miles, Olajuwon was a NBA Champion, MVP, Finals MVP, All Star, blocks leader, rebounding leader, and Basketball Hall of Famer.
4

Worst - Andrea Bargnani (7'0")
Another player that had the finesse game to fit today's NBA mold. Just a little more effort in the paint when needed could have gone a long way for Andrea Bargnani. Unlike Spencer Hawes though, Bargnani had more pressure and promise to become a complete player. The Toronto Raptors used the number 1 overall pick on the 7-foot Italian. Some players picked after him included LaMarcus Aldridge at #2, Brandon Roy at #6, and later on Rajon Rondo, Kyle Lowry, and Paul Millsap. Even Millsap, who was a 2nd-rounder, would have been better for the Raptors than Bargnani.
Bargnani was supposed to come in and compliment franchise player, but instead Chris Bosh left for Miami, and Bargnani was handed a chance to really shine. Instead he showed minimal effort rebounding the basketball. He did manage a career high 21.4 ppg in 2010-11, but added just 5.2 rpg in 35.7 minutes of action. All for a 22-60 Raptors team.
3

Best - Kareem Abdul-Jabbar (7'2")
Another tough decision just on where the NBA's all time scoring leader would end up on our list. Kareem Abdul-Jabbar is considered the best center, big man, and even best player ever to some. Another big man who was able to combine poise, post moves, and pure athletic ability to become one of the most dominant forces in NBA history.
For anyone that forgot, it didn't all start with the Lakers, that's just where he finished the brilliance. 6 NBA Championships, 2 Finals MVPs, 6 NBA MVPs, 19 All Star Games, 10 First Team All NBA Teams!!.  All Time Scoring Leader, All Time Minutes Leader, All Time Field Goals Leader in both playoffs and regular season. Abdul-Jabbar did it as good and with as much longevity as anyone.
2

Worst - Hasheem Thabeet (7'3")

[caption id="" align="alignnone" width="640"]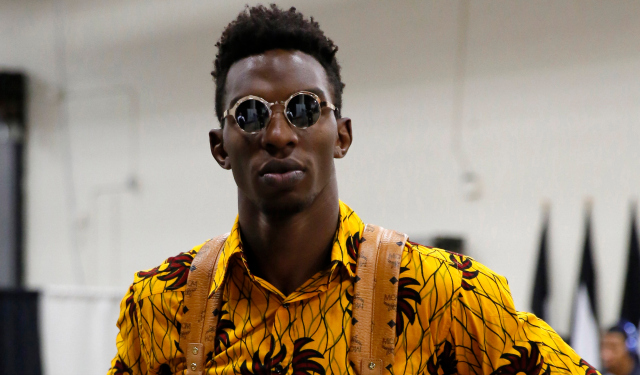 via alchetron.com[/caption]
Hasheem Thabeet never looked comfortable on a NBA basketball court. It was a shame. A former Big East Player of the Year and two-time NABC Defensive Player of the Year, the 7-foot-3 center was selected number 2 overall by the Memphis Grizzlies. To this day, the only accomplishment Thabeet added to his resume was a NBA D-League All Defensive Third Team in 2015.
Thabeet did set a record, becoming the tallest and highest draftee to be sent to the D-League during their rookie season. (Anthony Bennett did surpass the highest drafted "honor" later). Thabeet just never seemed to find the poise and calmness to regain the momentum he built in college. The man compared to Dikembe Mutombo on NBADraft.net is now out of the league after a few more stints in the NBA D-League.
1

Best - Wilt Chamberlain (7'1")

[caption id="" align="alignnone" width="600"]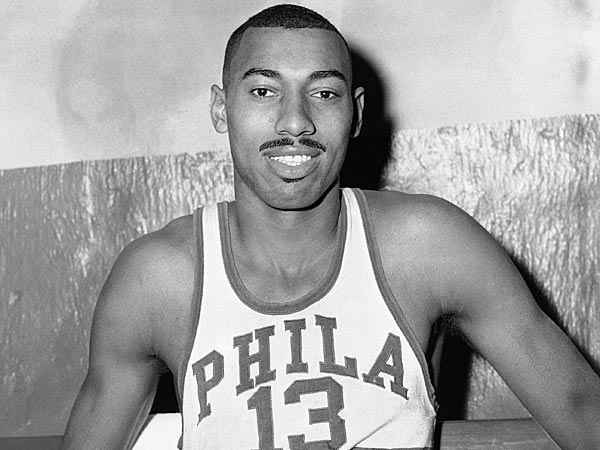 via philly.com[/caption]
There aren't many tapes of Wilt Chamberlain floating around, but the stories and clips are enough to lure a true NBA fan into his greatness. We can start with the 100 point game, or maybe the year he averaged 50.4 points per game. Maybe the string of averaging 20+ rebounds per game for 10 straight seasons. Or 1967-1968, when he decided to lead the league in assists, despite being a center. The guy even grabbed 55 rebounds in one game.
It all almost makes him seem like some kind of mythological creature but the players that played with or against him would agree. Wilt managed two NBA Champions, mostly thanks to Bill Russell who only stands at 6 foot 9, so was therefore left off our list. Wilt also grabbed four NBA MVP awards including four straight. To this day, Chamberlain holds numerous NBA records, most which will never be broken, also including a season rebounding average of 27.2 rpg.