So, do you guys have a MySpace? Just kidding, but social media has proved to be a staple in almost everyone's lives. Whether you try and fit your opinion in 140 characters,  "like" everyone statuses, slide into some chick's DMs, or just send a NSFW pic via SnapChat, almost everyone participates in the digital society.
Just like us plebeians, athletes also use social media to connect to their fans and grow their brand.  Following your favorite athletes allows fans to get to know them better. Just check out Russell Westbrook's Instagram. Who would have ever thought that the high-paced point guard would be a fashionista? Or how a 7'0" big man in Philadelphia would be one of the most hilarious voices on twitter.
Sometimes though, these athletes can push the boundaries a little too far on the internet. Whether they're a flat earther like Sammy Watkins or Kyrie Irving, spread unpopular opinions, or spread bigotry and intolerance, the spotlight is always on for these athletes, so they have to "behave" accordingly. As Herm Edwards always says, "Don't hit send!" and check out these 15 athletes who crossed the line on social media.
15

Draymond Green - YOU Know What We're Talking About
Let's be honest, snapchat was invented purely for the purpose to send out nudes. In the summer of 2016, the Golden State forward snapped out a picture of his member standing at attention to all of his followers (and no, it wasn't just a picture of his face). Green went to the go-to mis-post excuse, saying his account was hacked. Eventually, he confessed and said it was meant to be sent privately. You gotta double check your stuff, man.
Green sharing his package was just the icing on the cake of a crap filled summer for Draymond. In the playoffs, he was kicking Steven Adams' groin. In the finals, he made a few swipes at LeBron's little king. And overall, he was just a jerk on the court. So, Green's snapchat was pretty much a summary of his playing style and his personality.
Fitting, but clearly crossing the line.
14

Cardale Jones Thinks School is For Fools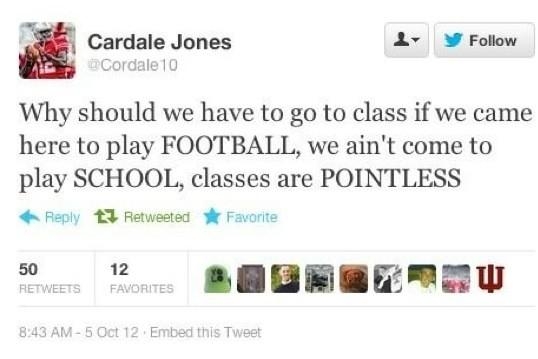 Oh, man! This tweet by Jones was featured in a textbook called "Best Social Media Behavior" as the bad example. No, that's not a joke, it actually is given to incoming Freshmen every year at Ole Miss. The former Ohio State QB was redshirting his freshman year, and decided he didn't come to school for school, but just to play football. Obviously, Jones was young and dumb then and has recently graduated from Ohio State. In reference to his 2012 tweet, in December of 2014, Jones said:
"I remember I was in class, and I think I got, like, a B on a [sociology] exam. It was just something so stupid; of course I didn't feel that way about academics, and I don't. Nobody in this program feels that way, we actually take that stuff very serious around here. It was just a dumba** thing to do. I definitely didn't think that would happen. It was just a stupid thing to do at that time. It was something where I just got pissed because I studied my a** off."
13

Mitch Trubisky Admits What He Likes To Kiss
Mitch Trubisky, the second-overall pick in this years 2017 NFL Draft, looks like he may have promising career.  But young athletes nowadays don't realize how social media may taint their image in the future.  Take Trubisky for example, just a few years ago, he probably was a dopey ass teenager who was extremely immature.  After he was drafted, some fans dug up some old tweets from the ex-Tarheel, which confirmed this notion.
I love to kiss t****es
— Mitchell Trubisky (@Mtrubisky10) 2011
Don't we all Mitch, don't we all.
I feel like a boss driving my moms van
— Mitchell Trubisky (@Mtrubisky10) 2011
That's not something to brag about. Plus, you should never refer to it as your "moms van."  As a fellow wagon driver, it's either the shaggin' wagon', or the love bus.
Hell yeah, Go Packers
— Mitchell Trubisky (@Mtrubisky10) 2015
Bears fans weren't to happy with this one.
12

D'Angelo Russell Records Nick Young's Confession
Bro code, bro! Russell crossed all the lines of social media secrecy and posted his teammate's, Nick Young's, Instagram confession to having banged a 19-year-old he picked up from a club. The bad news, Young was engaged to the beautiful Iggy Azalea at the time. The couple has since broken up, mainly due to Young's constant infidelity.
Russell was traded to the Nets in the offseason, as the Lakers are putting all their chips behind Lonzo Ball. Clearly, the "prank gone wrong," as Young had his back to Russell in the video, caused a huge rift in the locker room and Russell was labeled a snitch. Yes, D'Angelo crossed the line with this social media post, but damn, Nick, you gave up Iggy for some 19-year-old. Get your priorities together.
11

Mike Wallace Spoils Jason Collins's Moment
Mike, just stick to your deep routes and keep your opinions off Twitter. In 2013, after former NBA player, Jason Collins, came out as gay, Wallace posted the following:
"All these beautiful women in the world and guys wanna mess with other guys SMH..."
He quickly deleted the tweet and followed it up with this:
"I'm not bashing anybody don't have anything against anyone I just don't understand it. ... Never said anything was right or wrong I just said I don't understand!! Deeply sorry for anyone that I offended"
While I honestly think he meant no disrespect to anyone, the comments were ignorant and just plain dumb, especially since more athletes have come out in the past few years. Clearly, the current Ravens wide out crossed the line.
10

Charlie Villanueva Tweets During Halftime
In da locker room, snuck to post my twitt. We're playing the Celtics, tie ball game at da half. Coach wants more toughness. I gotta step up.

— Charlie Villanueva (@CVBelieve) March 15, 2009
Remember when Villanueva was actually relevant? Back in 2009, the ex-Uconn Husky got a little talking to from Milwaukee Bucks coach, Scott Skiles, for going on this "new social media" called Twitter, during halftime of a game. Skiles explained the situation to ESPN.
"We made a point to Charlie and the team that it's nothing we ever want to happen again," Skiles said after practice Tuesday. "You know, [we] don't want to blow it out of proportion. But anything that gives the impression that we're not serious and focused at all times is not the correct way we want to go about our business."
In the hairless wonder's defense, he did put up a game-high 19 points for the Bucks.  But you gotta be focused on the game, and we surely haven't seen the last of an athlete tweeting in competition (check out number 11!).
9

Suso Calls Out Teammate In Homophobic Manner
"What the F*** is he doing? This guy is gay. He has some mentals problems. He does everything except play football.
Whoa, Suso! That's your teammate bro!  Back in 2012, up and coming soccer star, Suso, sent out this tweet about his teammate, Jose Enrique, but soon deleted it after being ordered to do so by Liverpool. The damage was done, and the winger was fined £10,000 by Liverpool. Apparently, this kind of talk is "normal" for Spaniard's, and is even considered light-hearted. Okay, I get it,  you're just busting the guy's chops, but Google translate did not do you justice. If you want it to be playful, it would probably be better in Spanish. That seemed like some pretty hateful accusations towards Enrique, and if getting dental work done makes you gay, call me Liberace. Therefore Suso, you make the list of athletes who have crossed the line on social media.
8

Chad Ochocinco Tweets From The Sidelines
If you look up the definition of NFL Diva, Ochocinco has to be the first entry. Just like Charlie Villanueva,  the man formerly (or currently, I can't keep up with the guy) known as Chad Johnson, tweeted the following from the sidelines of a preseason game.
"Man Im sick of getting hit like that , its the damn preseason (expletive)! 1day I'm gone jump up and start throwing hay makers"
The NFL subsequently saw the time that Ochocinco tweeted, and fined him $25,000 for having an electronic device on the sidelines, and posting to social media during the game.  The Bengals wideout fired back:
I've been fined by the league a substantial amount of money for tweeting, 1st time twitter hasn't made me money but cost me money," was his first post. He followed that with a better one: "Dear NFL I apologize for tweeting during the game but that was 2 months of my Bugatti payments you just took from me,I won't do it again"
He just seems like a total d-bag and definitely crossed the line.
7

Ray Allen Reveals A Little Too Much Info
As I was writing this article, I was deciding whether or not I want to add a screen grab of Ray Allen's tweet.  But, since my boss may walk in at any moment, I'll just have to post the link here. If you didn't read it,  Allen meant to send an extremely NSFW "sext" to someone, but accidentally posted it publicly on his twitter account.  Whenever I actually read what he said, I read it in a robot's voice. The old man definitely needs some lessons in sexting.  First off, you always need to check who your sending it to EVERY TIME YOU HIT SEND. Secondly, don't use "u" instead of "you." You're not hitting up your bros, you are romancing a lady. And lastly, just don't sext, there is video chat now!
Allen obviously denied it, claiming his account was hacked.
6

Marcus Vick Offers A Bounty
Two things that bother be about this tweet! One, no matter what someone said (we will get into that), you should never call for a bounty on an athlete. Second, you are Marcus Vick, no one takes you seriously anyway!
Ok, for those of you who are completely lost on the situation, back in 2013, Philadelphia Eagles wide receiver, Riley Cooper,  said some pretty hateful comments, the n-word in particular, to a security guard at a country music concert. This made it to social media, and the WHITE wide receiver was under fire from his African-American colleagues. Clearly, his comments were wrong, insensitive, and ignorant. But Marcus Vick has to up the ante and call for a bounty on his head on the football field.  Come on bro, you appeared in one game for the Dolphin's in 2006, you have no room to talk!
5

Paraskevi Papachristou's Mosquito Comment
Damn, so fine, but so racist. Paraskevi Papachristou (who will from now on be referred to by her nickname, Voula) is a Greek triple jumper known for being banned from the 2012 London Olympics due to her insensitive tweet. Originally posted in greek, the message translated to, "With so many Africans in Greece... the West Nile mosquitoes will at least eat homemade food!!!"
Whoa, girl, slow your roll. That crossed way over the line. Not only is your tweet utterly racist, it's extremely insensitive. This is because there was a small outbreak of West Nile Virus in Greece that had already killed several people. Voula later came out and said the tweet was in bad taste, but once you hit send, the damage is already done.
4

Larry Sanders Shows Misspelled Tattoo
Back in 2013, Larry Sanders signed a four-year/$44-million dollar extension with the Milwaukee Bucks. At the time, one of the NBA's best shot blockers was "ain't worried bout nuthin" according to his Instagram post. But clearly, all those hours training to become a better basketball player, must have clashed with Sanders' English lessons. From the tattoo, you can see he received a mispelled "Recieve." Come on Larry, "i" before "e" except after "c." Get your spelling game up.
Now, Sanders doesn't "cross the line" in an offensive way with this post, but it is just so utterly dumb, that I had to include it with athletes on social media. Boys and girls, if you are going to ink up your body, at least run it through spell check first. An epic fail!
3

Antonio Brown Breaks The Locker Room Code
Locker room speeches are supposed to be sacred. Hyping players up, coaches going crazy, you know the deal.  But the public got a glimpse in to the Steelers locker room in 2017 when Antonio Brown decided to Facebook Live the postgame speech by coach Mike Tomlin.  You can see the full video here, but some great lines from Tomlin were:
"We spotted those a**holes a day and a half. They played yesterday, our game got moved to tonight. We gonna touch down at 4 o'clock in the f***ing morning. So be it — we'll be ready for their a**."
Brown later went on to apologize for the incident, stating the following:
First, I'd like to take this opportunity to say that I'm sorry for my actions and behavior after Sunday's game. I let my emotions and genuine excitement get the best of me, and I wanted to share that moment with our fans. It was wrong of me to do, against team and NFL policy, and I have apologized to Coach Tomlin and my teammates for my actions. I'm sorry to them for letting it become a distraction and something that they've had to answer questions about while we're preparing for a big game on Sunday.
The Pittsburgh Steelers fined Brown $10,000 for the incident.
2

Rashard Mendenhall Wants To Hear WHOSE Side Of The Story?
I don't know if this guy is crazy, a hippie, a genius, or just some creature from another planet. I'm not going to even write anything for this one, just read his tweets and decide for yourself.
"What kind of person celebrates death? It's amazing how people can HATE a man they have never even heard speak. We've only heard one side..." - in regards to Bin Laden Death
"We'll never know what really happened. I just have a hard time believing a plane could take a skyscraper down demolition style" - in regards to 9/11
I believe in God. I believe we're ALL his children. And I believe HE is the ONE and ONLY judge."
"Those who judge others, will also be judged themselves."
"For those of you who said you want to see Bin Laden burn ... I ask how would God feel about your heart?"
"There is not an ignorant bone in my body. I just encourage you to think."
1

Kevin Durant Has Too Much Time On His Hands
Oh KD, the most recent victim of getting into his own head. In September of 2017, the NBA Finals MVP, got caught commenting on his own Twitter to boost his image.
As Mike Greenberg of the ESPN morning show, Mike & Mike, said, Durant is "eagling the hole of life." Why does this superstar need to snap back at random fans on social media? Is it because he has low self-esteem? Or is he just sick of everyone discrediting his efforts for jumping ship in OKC and hopping on the championship train in Golden State?
Whether you think this behavior is justified or not, it crosses the line. Not just on social media, but as a man. I know you want to stand up for yourself KD, but the best way to silence all the haters is to go win another championship, don't just hide behind a keyboard and a fake name. That's why, Kevin Durant, you are number one on the list of athletes that have crossed the line on social media!