The 1990s were jam packed of NFL stars. Hall of Famers, All-Pros, dynasties, Super Bowl classics, and underdog stories were scattered throughout every year and every NFL franchise. During this era, the NFL really started its takeover of the MLB as America's league. There were what seemed like Hall of Famer quarterbacks at every turn, and the running back game was taken to a flashy, athletic, agility-driven position. The greatest wide receiver in Jerry Rice, who some may consider the greatest football player of all time was still carrying the 49ers through the '90s.
As an '80s baby, the players in the '90s were the first true athletic heroes that I was lucky enough to encounter. Looking back better than 20 years later, it is even more apparent that these players were able to influence generations of new football players, most of whom are on a NFL field today.
Although they were once stars, father time does catch up with everyone. Here we will take a look at what our favorite 90s NFL stars look like in the present day.
20

Barry Sanders
Let's kick it off with perhaps the most entertaining and electrifying player of the 1990s. Barry Sanders was a rare breed of running back. He could stop on a dime then explode back across the field and before you knew it he was outrunning the entire opposition.
Sanders was the number 3 overall pick in the 1989 draft. That year he would rush for 1,470 yards. Then from 1990-1998 he would eclipse the 1,000-yard mark each of his seasons during the '90s. This included a season in which he went for 2,053 yards and captured the NFL MVP. Here we see him at a Lions game during last NFL season, posing pre-game.
19

Emmitt Smith
Now we move on from the most entertaining running back of all time to the top statistical back of all time. Fans during the 1990s were fortunate enough to see both. Emmitt Smith's NFL records include 18,355 career rushing yards, 164 career rushing touchdowns, and 4,409 career rushing attempts. Emmitt helped the Dallas Cowboys to three Super Bowls throughout the 1990s, and made a trip to eight Pro Bowls during the decade.
Smith can be seen in this photo sporting his Pro Football Hall of Fame jacket during this year's ceremony. Smith himself was inducted in 2010.
18

John Elway
It took until the last two seasons of the decade, but John Elway was able to bring Super Bowls to the Denver Broncos in 1998 and 1999. Elway actually began his Hall of Fame career in the 1980s where he took home the 1987 NFL MVP award. He continued it into the 1990s with six Pro Bowls, a 1993 Offensive Player of the Year, and a spot on the All Decade team for the '90s.
Elway has since moved onto serving as the General Manager for those Denver Broncos. He was able to assemble a team that brought another Super Bowl to Denver. The Broncos led by Von Miller and Peyton Manning brought home Super Bowl 50.
17

Kevin Greene

[caption id="" align="alignnone" width="754"]
via newsday.com[/caption]
Time to remember some of the defensive stars of the 1990s. Kevin Greene was as mean a outside line backer as you were going to find during the decade. He actually entered the league as a defensive end and his prowess for getting to the quarterback never wavered. Greene ranks 3rd all time in sacks and topped the NFL in two seasons in that category. During the '90s, Green spent time with the Rams, Steelers, Panthers, 49ers and Panthers. He was able to earn four of his five Pro Bowl nods during the '90s, and landed a spot on the All Decade Team.
Although he did not get one as a player, Greene was able to help the Green Bay Packers to the Super Bowl XLV title as a OLB Coach. The picture above shows Green at his current position as the OLB Coach of the New York Jets.
16

Darrell Green

[caption id="" align="alignnone" width="548"]
via krustysoxsports.com[/caption]
We move onto another dominant defender who had some of the best speed to ever hit a NFL field. Darrell Green was able to change a game from the defensive side of the ball unlike many other in the history of the game (besides maybe the next guy). Green helped the Washington Redskins to two Super Bowls, with one coming in the '90s which was in 1992. He went to four of his seven Pro Bowls from 1990-1997, and two of his four First Team All-Pros during the decade in question.
Green has stayed regular with his appearances and has even voiced his opinion towards his beloved NFL team changing their mascot.
15

Deion Sanders

[caption id="" align="alignnone" width="1280"]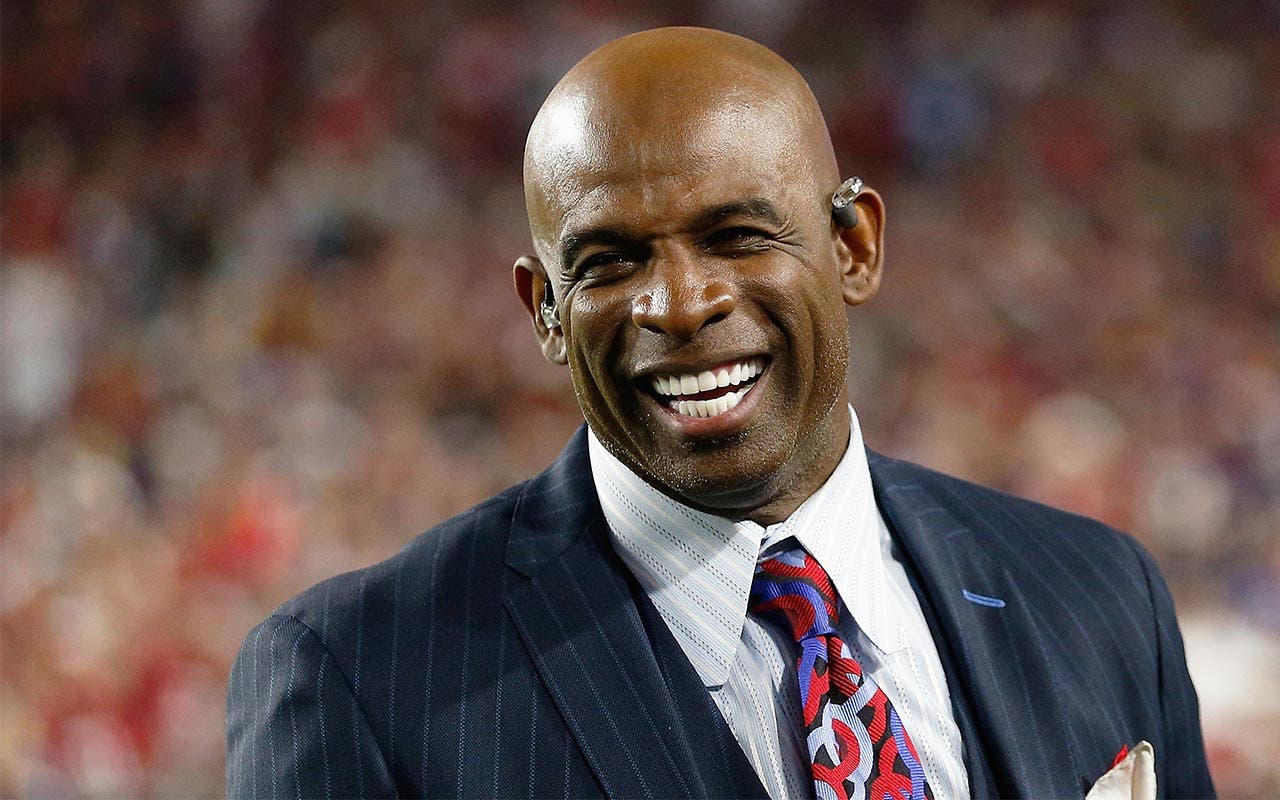 via bankrate.com[/caption]
Another all-time great at cornerback with blinding speed, Deion Sanders did it with more flash than perhaps anyone in the history of the NFL. "Prime Time" did it all. He was a shutdown corner who would return punts and kicks and even occasionally lined up at wide receiver. He even played Major League Baseball part time for nine years and five teams. Deion amassed 22 touchdowns which included 9 interception returns, 6 punt returns, 3 kickoff returns, 3 receiving TDs, and 1 fumble recovery.
Sanders has stayed in the public eye as a NFL analyst for CBS Sports and the NFL Network. Recently he has also become a high school offensive coordinator.
14

Levon Kirkland

[caption id="" align="alignnone" width="627"]
via 1star.fr[/caption]
Levon Kirkland entered the NFL in 1992 as a member of the Pittsburgh Steelers. There he would stay through the 1990s before finishing up his career in 2002 with the Philadelphia Eagles. Kirkland was known for his size at the linebacker position. At 6'1", he weighed anywhere from 275-300 pounds throughout his career. The former All-American went on to two Pro Bowls and two All-Pro teams between 1996-1997. He helped lead the Steelers to Super Bowl XXX before dropping the game to the Dallas Cowboys.
Kirkland has moved on to coaching, as did Kevin Greene. After serving as the Linebackers Coach at Florida A&M, he is currently the Outside Linebackers Coach for the Arizona Cardinals as pictured above.
13

Warren Sapp

[caption id="" align="alignnone" width="750"]
via nydailynews.com[/caption]
We had to throw a bizarre recent photo in here. Some may last remember seeing Warren Sapp in a mugshot that actually ended up costing him his analyst gig with the NFL Network. Well, after both photos came this event. Sapp was lobstering off the coast of Florida when he was bitten by a shark. Looks like Sapp's toughness came into play and he was fine.
Sapp was one of, if not the best defensive tackle in football during his prime. He entered the league in 1995 out of the University of Miami. He began his career with the Tampa Bay Buccaneers and that is where he would enjoy his prime. His Super Bowl win did not come until the 2000s, but Sapp was destroying quarterbacks and defenses for several years prior.
12

Carnell Lake

[caption id="" align="alignnone" width="960"]
via steelers.com[/caption]
Fun fact: Remember in 1997 when Barry Sanders and Brett Favre split the NFL MVP? It was because Carnell Lake snagged a vote and created the situation.
Lake entered the league as a 2nd-round pick. He was with the Pittsburgh Steelers from 1989 to 1998. From 1994 to 1997 he didn't miss a Pro Bowl and he added a fifth in 1999. During his career, which resulted in being named to the 1990s All Decade Team, Lake made 25 sacks, had 16 interceptions, recovered 17 fumbles, and scored 5 defensive touchdowns.
Lake can be found these days as the Defensive Backs Coach for the Steelers. There he has been since 2011.
11

Bruce Smith

[caption id="" align="alignnone" width="1280"]
via newslocker.com[/caption]
Here is Bruce Smith, the all-time sack leader with 200, getting his number retired by the Buffalo Bills during the 2016 season. Smith spent time in three decades, the '80s and '90s with the Bills, then he finished his career up with the Redskins from 2000-2003. In all, Smith went to 11 Pro Bowls including seven straight from 1992-1998. The longtime Bills' defensive end was a four-time AFC Defensive Player of the Year and two-time NFL Defensive Player of the Year. For his efforts, Smith actually made the All Decade Team for both the 1980s and 1990s.
We know the Bills never made it over that Super Bowl hump, but Bruce Smith was the centerpiece of that four-year Super Bowl run.
10

Tony Boselli

[caption id="" align="alignnone" width="650"]
via jaguars.com[/caption]
In 1995, Tony Boselli became the Jacksonville Jaguars' first ever draft pick. There he would play until 2001 before finishing up his career with the Houston Texans in 2002. During his time with the Jaguars, Boselli went to five straight Pro Bowls. He was also 1st Team All-Pro from 1997-1999. In 1998, he was named NFL Alumni Offensive Lineman of the Year. All this was good enough for Boselli to land his spot on the 1990s All Decade Team.
Following football, Boselli worked as a game analyst from 2009-2012, and in 2013 he joined the Jaguars Radio play-by-play team.
9

Brett Favre

[caption id="" align="alignnone" width="659"]
via jsonline.com[/caption]
It seems like Brett Favre is still on TV more than the current NFL stars. He was and still is a walking endorsement deal. To go with that, Favre was also one of the greatest quarterbacks of all time. Like Bruce Smith, Favre expanded his greatness across more than one decade, but it was in the 1990s that he really put together his Hall of Fame career. In the 1990s, Favre won his one and only Super Bowl, went to five Pro Bowls, made three straight First Team All-Pros, and won three consecutive NFL MVPs from 1995-1997.
Favre owns many NFL records, some good, some bad. But it was his consecutive start streak that really cemented his legacy as one of the league's toughest players of all time.
8

Jerry Rice
Regarded as not only the greatest wide receiver of all time, but perhaps the greatest football player of all time, Jerry Rice entered the league in 1985 and dominated the '80s, '90s, and even helped the Raiders to a Super Bowl appearance later in his career. A member, and a main factor on those great 49ers teams of the late-'80s and early-'90s, Rice has three Super Bowl Championships to his credit. Rice's most notable NFL records include 1,549 career receptions, 22,895 career receiving yards, 197 career receiving touchdowns, and 23,546 career all purpose yards.
Rice still stays around the game. Just recently, there were videos of him participating in pick up games, and he headed Team Rice in the Pro Bowl in both 2014 and 2016.
7

Marshall Faulk
Marshall Faulk was drafted number 2 overall by the Indianapolis Colts in 1994. He earned Offensive Rookie of the Year and attended numerous Pro Bowls with the Colts but it was when he moved onto the St. Louis Rams that Faulk's greatness really began to shine. Faulk may had only played one season in the 1990s with the Rams but it turns out that he helped "The Greatest Show On Turf" to a Super Bowl win that year. Faulk would add a NFL Offensive Player of the Year to his '90s resume that season.
As we know Faulk went on to shine in the 2000s as well. He would eventually land in the Pro Football Hall of Fame and currently works as a analyst for the NFL Network.
6

Rod Woodson
The 1990s weren't short on stars at any position, but they sure did produce some all-time great defensive backs, none more true that Rod Woodson. Woodson entered the league in 1987 and continued through until 2003, but it was during the 9'0s that Woodson hit his prime, making several Pro Bowls, First Team All Pros, and winning 1993 Defensive Player of the Year. He also was the NFL's 1999 Interceptions Leader, and earned a spot on the 1990 All Decade Team. He would go onto win a Super Bowl in the 2000s as a member of the Baltimore Ravens. His 71 interceptions are good for 3rd best all-time.
Woodson is helping spread his expertise as Cornerbacks Coach of the Oakland Raiders.
5

Michael Irvin
The Cowboys had one of the best Big 3 combos in the history of the NFL. All Time Leading Rusher Emmitt Smith in the backfield, Troy Aikman at quarterback, but many say that it was Michael Irvin that was the most integral piece on those Super Bowl winning Cowboys teams. three Super Bowl teams to be exact. Irving himself went to five straight Pro Bowls from 1991-1995, made his way onto 3 All Pro teams, and broke 1,000 receiving yards. Each time he was able to play all 16 games.
Since his retirement, we have still seen Michael Irvin popping up in movies and as an analyst. Here we see him at this year's NFL Combine.
4

Cris Carter

[caption id="" align="alignnone" width="543"]
via yardbarker.com[/caption]
Cris Carter had a rough star to his career due to some personal issues. He was even cut by the Philadelphia Eagles. Lucky for fans, the Minnesota Vikings, and himself, he was able to turn his life around and form a Hall of Fame career. Carter would end up going to eight straight Pro Bowls from 1993-2000, and became notorious for catching touchdowns. He was able to lead the league three times during the '90s, and ranks 4th all-time in NFL history.
Carter has stayed around football. Carter can be seen Sunday mornings on the NFL countdown where he works as an analyst.
3

Thurman Thomas

[caption id="" align="alignnone" width="540"]
via espn.com[/caption]
We mentioned one member of the Buffalo Bills that went to an unheard of four straight Super  Bowls. Unfortunately, Thurman Thomas and his Bills teammates never did capture the title, as we all know. Here is Thomas and the aforementioned Bruce Smith reviewing that run in a documentary about those historic years.
Thomas was as good as they came out of the backfield. He went to five straight Pro Bowls and was the 1991 NFL MVP as well as NFL Offensive Player of the Year. The former second-round pick is a member of both the Pro Football Hall of Fame and College Football Hall of Fame.
2

Randall Cunningham
Randall Cunningham is the quarterback that made eluding the pocket such a big part of today's game. He was the player that revolutionized the game before the likes of Steve Young, Michael Vick, Aaron Rodgers and Cam Newton. Cunningham had his first run on top with the Philadelphia Eagles. There, he went to three Pro Bowls, and later in 1998 he added another with the Minnesota Vikings. It's fair to say that 1998 season in Minnesota was his best. He would add his second First Team All-Pro, lead the league in Passer Rating, and help lead the Vikings to a 15-1 regular season record.
After football, Cunningham became a ordained Protestant minister, and has coached high school football. Here he is with his daughter, Vashti. Vashti Cunningham qualified for the Rio Olympics at just 18 years old for the high jump.
1

Jim Harbaugh
Jim Harbaugh may not have been as big a star during his NFL days as most of our list were, but it could be argued that he has been the biggest star in his post-NFL playing career.
During his career, Harbaugh did make a Pro Bowl in 1995, was named AFC Player of the Year, and Comeback Player of the Year. He would play for five NFL teams, but the days in Indianapolis were his best. The Colts rewarded him with a spot in their Ring of Honor.
After his playing days, Harbaugh became a successful college coach before making his way to the NFL. There he took the 49ers to three straight NFC Championship games including a Super Bowl appearance, where they fell to the Baltimore Ravens who happened to be coached by brother John. Harbaugh has since moved on to being the head coach at prominent Michigan. His khaki pants have become his trademark look.