Ronda Rousey debuted for the WWE after the first women's Royal Rumble two weeks ago, which will go down as one of the most memorable moments in recent memory. Now, the focus turns to her first opponent in the squared circle.
On this week's episode of Monday Night Raw, GM Kurt Angle announced that Rousey will sign her contract at the upcoming Elimination Chamber pay-per-view on Feb. 25. But until that time, fans will be left speculating who Rousey will face at WrestleMania 34 in New Orleans.
Dave Meltzer initially reported that the plans were to have Rousey team up with The Rock in a mixed tag match, where they'll face Triple H and Stephanie McMahon. But there's no guarantee that Rock will be able to wrestle, given his acting schedule and the possibility that he won't be allowed to compete, given to complicated actor insurance policies.
But WWE Champion AJ Styles has a name in mind for Rousey's first opponent. Asked by TMZ Sports on who he'd like the former UFC star to face, Styles gave an intriguing answer:
"Personally? You put her up against Charlotte Flair, she's going to have an unbelievable match. You put in there with Asuka, you're going to have an unbelievable match.

Becky Lynch, Sasha Banks. I mean we got tons of people, ladies, that you can throw her in there -- women's revolution, are you kidding me? Throw her in there with anybody."
We know how Charlotte and her father feel about that. Ric also told TMZ Sports that he wants Rousey to "fight my daughter." The SmackDown Women's Champion also added that Rousey "knows where to find me."
RELATED: RUMOR: WWE SIGNED RONDA ROUSEY TO ELEVATE ANOTHER NAME
[caption id="" align="alignnone" width="770"]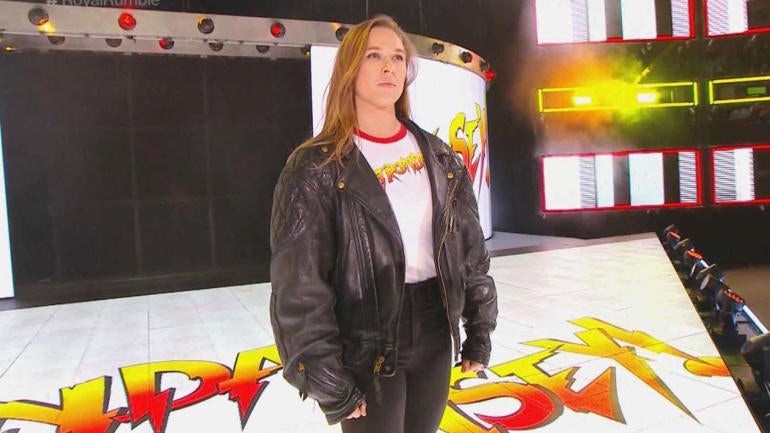 via CBS Sports[/caption]
As Styles said, there are so many intriguing names for Rousey to face at WrestleMania 34, it's hard to narrow the best choice down to one. But given her close relationship with Stephanie and Triple H, a mixed tag match that involved The Rock or somebody else would be a safe pick. After all, Rousey did appear at WrestleMania 31 in a segment involving the WWE power couple.
The good news is that Rousey's contract with WWE is full-time, so she'll have plenty of opportunities to face all of the main female stars. We're sure the match at WrestleMania will be great, no matter the opponent.
NEXT: WWE ANNOUNCES RONDA ROUSEY'S NEXT APPEARANCE
Rob Gronkowski To Snub WWE In Favor Of Acting Career After He Retires