The New World Order faction is widely recognized as one of the greatest in sports entertainment, and it breathed life into WCW- which became the biggest promotion in America for a few years in the '90s.
Eric Bischoff's master plan saw Hulk Hogan - the long-time fan favorite and face of pro wrestling - turn to the dark side and form the villainous stable with future Hall of Famers, Kevin Nash and Scott Hall.
Together, the nWo storyline ran WCW - where most members of the roster teamed up to destroy their opponents. But over time, the storyline grew stale and stopped appealing to the fans.
And according to former WCW legend and WWE Hall of Famer Booker T, the nWo itself almost destroyed the wrestling business. Appearing on the Sam Roberts' Wrestling Podcast (h/t WrestlingInc.com), here's what the former WCW Champion had to say:
"I had a match with Kevin Nash and it was my first match in Canada, in Toronto, Canada. He had been there many, many times before and people loved him as Diesel. And now, he's coming back in WCW and he's still Diesel to those fans over there in Canada. He went out there with nWo and he gave everyone the nWo kiss, the little kiss sign that they would do. 'nWo in the house!'

Everybody in the crowd erupted. And I'm back in the back listening to all of this like, 'he's the bad guy!' I walked out of the curtain and they played my music, and I walked out of the curtain, and they booed the crap out of me. That's when I knew the nWo, the bad guys, [were] killing the business because they didn't want the heat. They wanted the adulation. The nWo almost singlehandedly ruined the business as far as good guys, bad guys, cowboys, and Indians. You don't want to mess that up.
The nWo faction quickly got over with the crowd, and merchandise sales were off the charts. Even though they were heels, the nWo was extremely popular with wrestling fans, hence why Bischoff had no problem booking them to run virtually every show.
[caption id="" align="alignnone" width="600"]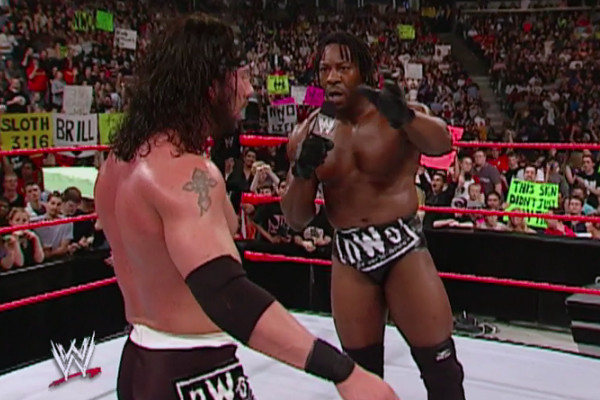 via WhatCulture.com[/caption]
But in the late '90s, Bischoff would have the faction break up, get back together and so on, so forth. The nWo was relied upon to carry the whole company, whereas Vince McMahon introduced the Attitude Era and let 'Stone Cold' Steve Austin and The Rock run his show. That's when the WWF began to win the Monday Night Wars, and they would never look back.
The irony is that even though the nWo helped WCW become the most popular promotion for a brief period, they're also somewhat responsible for its downfall. Vince knew when it was time to adapt to new stars; WCW did not.
As such, Booker T has a point in saying the nWo almost killed the business.
NEXT: ERIC BISCHOFF EXPLAINS WHY NWO WOLFPAC FORMED
Goldust Predicts Which WWE Females Will Break Out As He Provides Update On Return