The relationship between Eric Bischoff and Hulk Hogan is among the most unique in the wrestling world. It was Bischoff - the former executive producer of WCW - who recruited Hogan to come back to the ring whilst he was filming Thunder in Paradise.
Hogan had left the WWF after Vince McMahon opted to move forward with younger talents, but Bischoff brought him aboard and revived his wrestling career. Hogan became a major heel and leader of the rebellious New World Order stable, which put WCW on the wrestling map.
And in a recent interview with Raj Giri of WrestlingInc.com, Bischoff revealed that he and Hogan remain close friends, and that they stay in contact "almost every week," and they "have business together."
Many WWE fans are also wondering if Hogan will be brought back to the WWE. It's been almost three years since he was fired after an audio tape of him using racial slurs was leaked to the public.
RELATED: HULK HOGAN AND BRUTUS BEEFCAKE'S LEGAL BATTER IS FAR FROM OVER
Does Bischoff think a return is possible for Hogan?
"Do I see it changing? Yeah, I do...My gut tells me, you know as the saying goes, time heals all wounds...His relationship with the WWE, whether it's official or unofficial, is something that can't really be erased. So I think when time heals the wounds, I think it's inevitable that they'll come back together again. But there's charred feelings on both sides of that equation."
Though Hogan has continually stated that he would like to come back to the WWE, there have been no indications that the company feels the same. He was nowhere to be seen at the Raw 25th Anniversary show, which is a telling sign they're not even considering a change of mind right now.
[caption id="" align="alignnone" width="600"]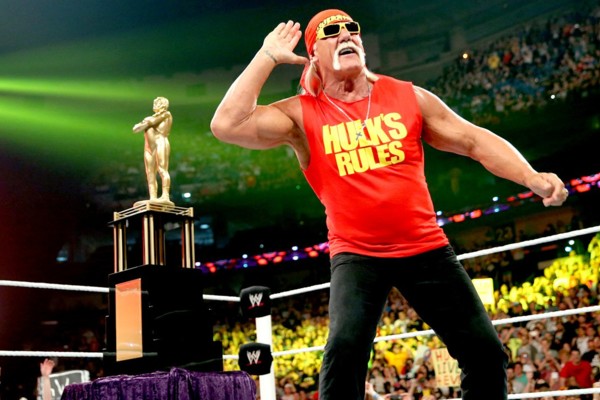 via whatculture.com[/caption]
Vince McMahon and Hogan always had a rough working relationship, as the latter has had four bitter had controversial departures from the WWF/E. Whether or not they're willing to make amends remains to be seen.
For what it's worth, Triple H admitted back in Nov. 2015 hat he could see Hogan returning to the WWE in the future. But it's likely going to be up to Vince in deciding if The Hulkster has one more WWE run. We may not know for a while what the decision will be.
NEXT: HULK HOGAN AND RIC FLAIR TEAMING UP ONCE AGAIN
Andrade Told Rush And Dragon Lee Not To Sign With WWE