WWE superstar Jeff Hardy has been out of action since September after suffering a torn labrum and torn rotator cuff. Hardy and brother Matt returned to WWE at WrestleMania 33, where they captured the Raw Tag Team Championships.
With WrestleMania 34 in New Orleans just over a month away, fans are wondering if a handful of injured superstars like Jason Jordan, Samoa Joe and Big Cass will be cleared for action. Well, there is good news on the Jeff Hardy front - as PWInsider.com is reporting that he was spotted in Birmingham, Alabama to have his shoulder checked out.
It's not clear at this time if Hardy will be cleared to fight at 'Mania, but his recovery appears to be going smoothly. If he can return in time, it'll be interesting to see how the creative team paves the way for his return. Matt is in the midst of his 'Woken' gimmick and in a feud with Bray Wyatt, so reuniting The Hardy Boyz is no guarantee.
Jeff's return would be a massive break for the WWE, given how many injuries some of the top stars have suffered. Besides Jordan, Cass and Joe, Dean Ambrose was ruled out for nine months after suffering a torn triceps, and will not be available at WrestleMania 34.
[caption id="" align="alignnone" width="696"]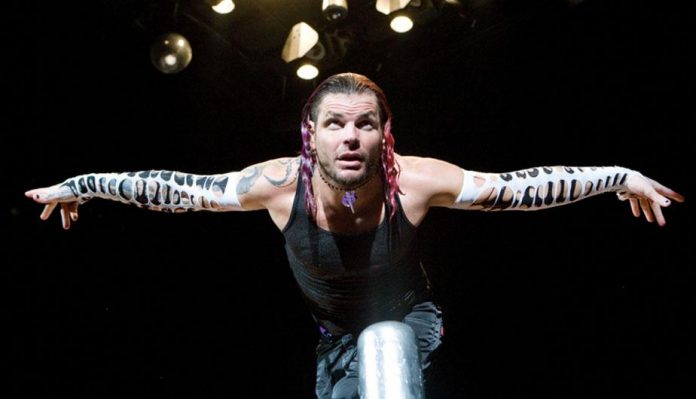 via PWMania.com[/caption]
Unfortunately, much of Jeff Hardy's career has been marred by injuries. This is no surprise, given the insane amounts of dangerous stunts he's put his body through. Hardy originally left the WWE in 2009 (after losing a career-threatening match to CM Punk), to recover from a handful of injuries.
If he does return in time for WrestleMania, perhaps Jeff and Matt will re-enter the tag team picture and continue their feud with The Bar. With Jordan and Ambrose out, Seth Rollins hasn't had a suitable tag team partner - so he and Roman Reigns may revert to singles competition. It won't be long until we find out if Jeff is able to return, and what the plans will be for him.
NEXT: BOLD PREDICTIONS HEADING INTO ELIMINATION CHAMBER
Enzo Amore Shows Support For Big Cass After Seizure Scare