The WWE has seen its fair share of champions throughout its inception, and images of these champions with the crown jewel of the WWE will be forever etched in history. However, while these moments show these wrestlers reaching the pinnacle of the sports entertainment industry, there are other moments that are not as joyous. These are the pictures that champions want erased from history once and for all as they are embarrassing and unflattering.
These moments may have occurred prior to the individual becoming WWE Champion, or after or even during his run with the title. Some of these took place inside the squared circle whereas others are outside of the ring. They are unlikely to be forgotten anytime soon and some of them will not be forgotten by the masses whatsoever. These moments may ring a bell when looking at the image of the WWE Champion in question. Without further ado, here's 15 pictures that former WWE Champions do not want you to see.
15

An Intoxicated Jeff Hardy Faces Off Against Sting
Fortunately for those at WWE, Jeff Hardy's drunken escapade against Sting didn't take place in WWE, but in TNA. Hardy has had a storied career in both TNA and WWE, but he will forever have the dark cloud that is Victory Road 2011 loom over him. Facing off in the main event against Sting for the TNA Heavyweight Championship, Hardy showed up to the ring visibly intoxicated. Hardy was deemed so physically intoxicated that those in charge at TNA decided to call an audible for whatever the original finish to the match was. The match ended in 90 seconds as Sting came up victorious to end the evening in disappointing fashion (none of which was Sting's fault). This is one of the lowest points in TNA, and considering this is TNA, that's saying a lot!
14

Roman Reigns Mugshot
Not to be outdone by "Stone Cold" Steve Austin, WWE's resident "Big Dog", Roman Reigns has a mugshot of his very own. Reigns mugshot stems from a 2010 arrest in which he was charged for affray, riot, unlawful assembly and disorderly intoxication. The latter of those charges, disorderly intoxication, is practically written all over Reigns' face as he looks visibly inebriated in his mugshot. Fortunately for WWE, when Reigns was arrested he was not a member of their roster. In addition, Reigns arrest is much less of a PR nightmare as Austin's was based on the charges that he faced. Reigns has stayed out of trouble since and appears to have had an evening of poor judgment when he was charged for the forenamed charges.
13

Hulk Hogan Wears A Tutu

[caption id="" align="alignnone" width="1014"]
via pinterest.com[/caption]
The Rock may have the unfortunate photo of him donning a fanny pack haunt him for years, but it pales in comparison to this picture of Hulk Hogan. In defense of Hogan, the outfit he wore wasn't of his choosing; rather, the outfit was one he wore for his role in the film, Mr. Nanny. Not helping his case, Hogan actually appears on the cover of the film in the exact same outfit. If the ultimate goal was to create shock value, the cover certainly did that. However, the picture of Hogan is about as dismal as the success of the movie as it has a dismal 7% rating on popular movie site Rotten Tomatoes. All I can say is, "what you gon do, brother, when 'balletmania' is running wild on you?"
12

The Rock Disappoints The Fashion Police (Breezango?) By Wearing A Fanny Pack
The amount of tickets that The Rock would end up receiving via WWE's resident Fashion Police, Tyler Breeze and Fandango, for sporting a fanny pack would be endless. However, there was a time in the '90s when wearing a fanny pack was more accepted then it is today. While it wasn't exactly a go-to accessory, it wasn't uncommon to see individuals wearing the accessory, which would be sported either just above or just below their belt. Today, the likelihood of seeing one sporting a fanny pack happens far and in between. The Rock must be hoping for the fanny pack to make a comeback in the world of popular fashion so he can point at this photo from decades prior to say he's been a fan of the accessory for a number of years!
11

CM Punk Comes Up Short In His UFC Debut
After departing the WWE due to his displeasure with the lack of direction within the company, CM Punk sent shockwaves through the wrestling world when he walked out of the company in January 2014 just after the Royal Rumble PPV. Punk would once again send shockwaves, but this time in the wrestling circle and in the MMA circle, 11 months later when he announced he had inked a deal with the combat promotion UFC. Punk's intention was to debut with the company within a year's time so he could have ample training time to grasp the sport. However, while this was his goal, Punk had his debut delayed on a number of occasions due to a number of injuries. On the night of the weigh-in, Punk refused to shake the hand of his opponent, Mickey Gall. And on the night of the fight, Gall got the last laugh as he made Punk tap at the 2:14 mark of the first round.
10

Kevin Nash And His Son Are Arrested On The Same Night

[caption id="" align="alignnone" width="800"]
via news.jammedup.com[/caption]
What's worse then getting arrested? Getting arrested and having your son get arrested on the same day. On Christmas Eve 2014, Kevin Nash was arrested as a result of battery against his son, Tristen. A mere two hours later, the younger Nash was arrested after allegedly attacking his mother, which forced his dad to intervene. Kevin Nash's charges were dismissed less than a month later as he claimed he was only attempting to protect his wife that fateful evening. Considering that Tristen was arrested just two hours later as a result of attacking his own mother, it's hard to say Nash's statement doesn't hold water. Regardless, a mug shot does nothing to enhance your image.
9

Vince McMahon Has His Head Shaved...By Donald Trump

[caption id="" align="alignnone" width="940"]
via zeenews.india.com[/caption]
Billed as the "Battle of the Billionaires," WrestleMania XXIII pitted Vince McMahon against now-45th United States President Donald Trump in a match. But, it wasn't McMahon and Trump that would be going one-on-one inside the squared circle; instead, McMahon had picked the late "Samoan Bulldozer" Umaga to represent him, whereas Trump went with former ECW Champion Bobby Lashley. McMahon ended up getting the short end of the stick, as Lashley was victorious, and if the loss to Trump didn't kill his ego, what followed next surely did. Since Umaga came up short, McMahon had to have his head shaved, and the likes of longtime nemesis Steve Austin, Lashley and Trump certainly enjoyed being the ones to shave the head of WWE's head (no pun intended) honcho.
8

The Big Show's Mugshot

[caption id="" align="alignnone" width="670"]
via thesmokinggun.com[/caption]
In December of 1998, WWE's The Big Show had not made his way over to Vince McMahon's WWE as he was still employed by Ted Turner's Atlanta, Georgia-based promotion WCW. While not yet billed as The Big Show, the seven-foot monster had planned on giving a motel clerk his own version of what would be his future in-ring name- the big show. Having allegedly exposed himself to a motel clerk in Memphis, Tennessee, The Big Show was arrested for indecent exposure. Fortunately for Show, the charges were dismissed due to a lack of evidence. Nonetheless, this sleepy mugshot of The Big Show isn't doing him any favors considering he looks beyond out of it and it would not be a stretch to say he is intoxicated to one extent or another.
7

JBL The Bully And His Victim
Despite having spent less than a year with WWE, SmackDown play-by-play commentator Mauro Ranallo had become a fan favorite with the WWE Universe as a result of his animated and highly-engaged personality. Ranallo's no stranger to commentary, as prior to making his way over to the E, he had commentated for a number of MMA promotions and on marquee fights for Showtime Boxing. Ranallo's tenure in the WWE was short-lived as he exited the company due to alleged bullying via JBL. To make matters worse, Ranallo has been diagnosed as bipolar which makes for an even messier PR matter for the WWE. JBL is renowned for hazing and has faced "fire JBL" chants ever since Ranallo left the company. Photos alongside Ranallo hurt JBL to the umpteenth degree, based on Ranallo's departure.
6

Stone Cold Steve Austin's Mug Shot

[caption id="" align="alignnone" width="640"]
via pinterest.com[/caption]
Having been arrested for domestic violence for a event that stemmed from June of 2002, "Stone Cold" Steve Austin was officially arrested on August 14th, 2002. Austin's arrest made for a PR nightmare for WWE as not only did the arrest cast one of the company's biggest superstars in a negative light, but the party accusing Austin of domestic abuse was a former WWE talent. That former WWE talent was WWE Diva Debra who, at the time, was making sporadic appearances for the company. Interestingly enough, Debra has not been seen in the WWE since the domestic violence accusations and it has been a whopping 15 years since. The WWE did a stellar job at keeping Austin's arrest far away from the limelight, but unfortunately for both WWE and Austin, the mugshot is something they are unable to get rid of.
5

Seth Rollins And His Ex-Fiancee Leighla Schultz
In happier times, Seth Rollins was engaged to Leighla Schultz. Rollins had been involved with Schultz for six years and it looked like it was only a matter of time before the happy couple walked their way down the aisle and said their vows. That is, until Rollins' nude photos surfaced and it was revealed that he was having an affair with then WWE NXT talent Zahra Schreiber. Unsurprisingly, Schultz instantaneously changed her Twitter profile to read, "single" as opposed to "in a relationship." Rollins is currently involved with a woman by the name of Sarah Alesanderelli and hopefully it works out much better for him than his relationship with Schultz did. After all, Rollins has nobody to blame but himself for the demise of his relationship with Schultz.
4

Brock Lesnar Gets Knocked Out By Cain Velasquez

[caption id="" align="alignnone" width="870"]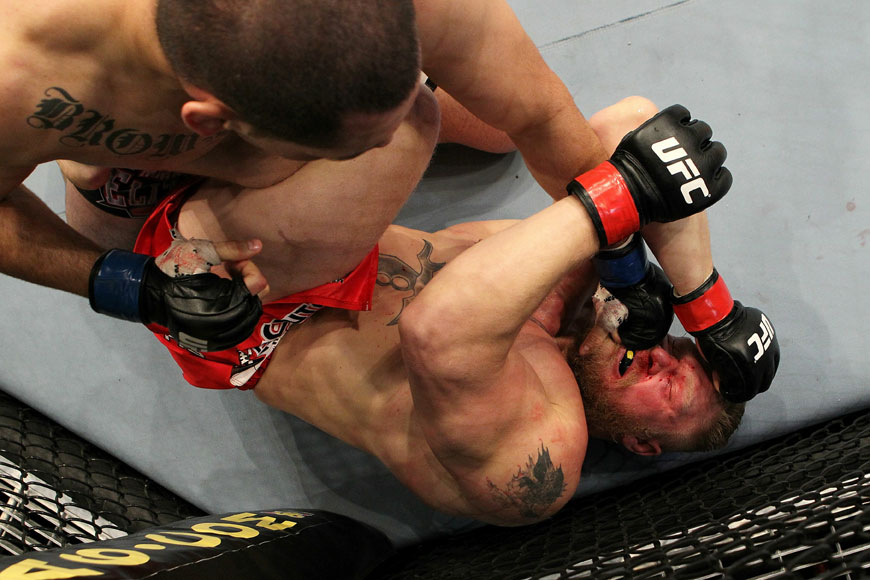 via mmaweekly.com[/caption]
On November 15th, 2008, Brock Lesnar officially became the "Baddest Man on the Planet" when he TKO'd Randy Couture to become the UFC Heavyweight Champion of the world. Lesnar had reached the pinnacle of the sport and proved that despite coming from the WWE, he was as real as they come. Lesnar successfully defended the belt in his following two fights as he KO'd Frank Mir and submitted Shane Carwin. His third title defense was one he'd rather forget. Pummeled by Cain Velasquez in the first round, Lesnar was TKO'd via punches at the 4:12 mark of the first round as Velasquez became the new UFC Heavyweight Champion for the promotion. Lesnar looked vastly different from the man fans he'd seen in the prior three fights, as Velasquez handled him with ease.
3

Kane As Fake Diesel

[caption id="" align="alignnone" width="655"]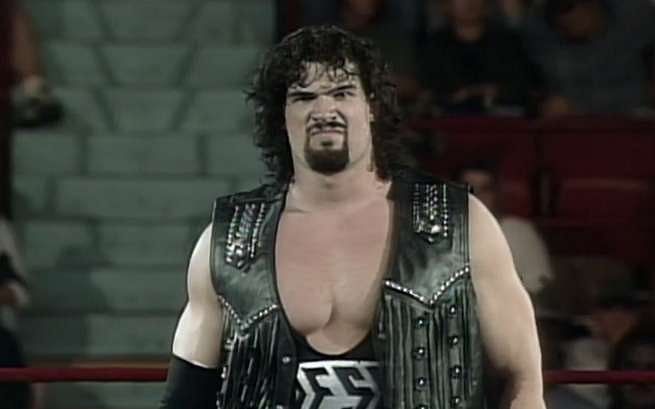 via reddit.com[/caption]
Once Diesel and Razor Ramon (arguably better-known as Kevin Nash and Scott Hall) decided to take their talents to WCW, based on receiving far more lucrative contracts then WWE was offering, Vince McMahon decided to create a new Diesel and new Razor Ramon for WWE programming. In retrospect, McMahon would say, "what was I thinking?" But, for whatever reason, McMahon thought at the time of the departure of "The Outsiders" replacements would be a-okay. The experiment lasted less than a month as the two weren't well-received by fans. While Ramon was played by a relatively unknown name in Rick Bognar, Diesel was played by Glenn Jacobs, the future "Big Red Machine", Kane. Kane's got a laundry list of pictures he's probably embarrassed of (CC: Katie Vick), and this is just one of many.
2

Randy Orton The Marine Who Went AWOL
Before getting his start in the wrestling industry, Randy Orton enlisted in the Marines once he graduated from high school. His time with the Marines is one he'd rather forget. Orton received a bad conduct discharge from the Marines due to not going AWOL once, but for going AWOL on two separate occasions. Not helping his cause, Orton also allegedly disobeyed the command of a commanding officer. Orton eventually ended up serving 38 days in prison at Camp Pendleton. Orton hasn't been able to shake his past as he was originally cast to serve in the lead role for The Marine 3, but was replaced by "The Awesome One," The Miz, due to his prior bad conduct discharge that had gotten him booted from the military.
1

Kurt Angle's Mugshot

[caption id="" align="alignnone" width="640"]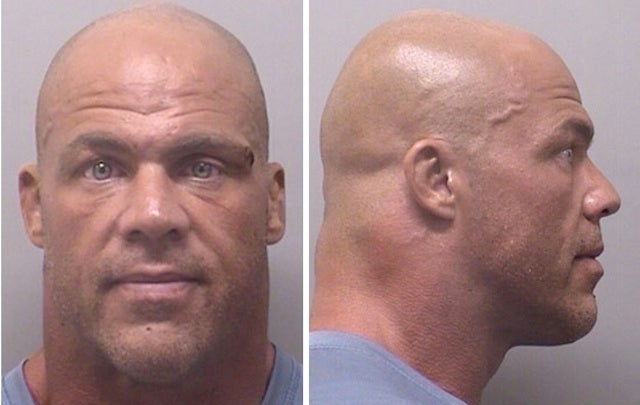 via tmz.com[/caption]
The current General Manager of Monday Night Raw and former Olympic Gold Medal winner Kurt Angle has battled his demons with alcoholism throughout the years. Angle has been arrested for DWI on a number of occasions, starting with a 2007 arrest in Pennsylvania. Four years later, Angle was arrested for the same act in 2011, in the Midwest, in North Dakota. Two years later, Angle was arrested once again, this time in the Southwest, in Texas. Angle entered rehab after the ordeal in Texas and he seems to be in good spirits as he's avoided trouble ever since the 2013 arrest. Hopefully, the trend continues and Angle is able to stay sober and out of trouble. His love for chugging milk should come in handy!