The recent Women's Revolution, and subsequent evolution, on WWE programming includes a number of talented female Superstars. Our screens are graced with high-quality talent like SmackDown Live Women's Champion Naomi, Charlotte Flair, RAW Women's Champion Alexa Bliss, Becky Lynch and "The Boss" herself, Sasha Banks. It can be hard to stand out in the midst of such a powerful and talented roster, but Sasha manages to create buzz in every arena she visits.
Born Mercedes Kaestner-Varnado, Sasha Banks is a dedicated lifelong wrestling fan. She grew-up idolizing past WWE Superstars like Eddie Guerrero. One of her claims to fame when entering the WWE was her connection to famous rapper Snoop Dogg, as the two are first cousins. Mercedes entered the indie wrestling scene and after a few years was hired to NXT developmental in 2012. She began to quickly make a name for herself, tearing the house down in matches with other upcoming talent like Charlotte Flair and most importantly against her real-life best friend Bayley.
Sasha was called-up to the main roster of the WWE to help kick-off the Women's revolution. She made her debut as a heel, but soon became a babyface darling with the live audiences. She continues to gain momentum and garner tons of fan attention as part of the roster on Monday Night RAW. She is the three-time WWE RAW Women's Champion, former NXT Women's Champ and was named as the first woman to win the Pro Wrestling Illustrated illustrious "Feud of the Year" award, alongside Charlotte Flair.
15

Sasha's Sexy Entrance
Sasha may be a unique beauty and a sight to see, but she's also a ground breaking female Superstar. She made double history back in 2016 when she not only became the first woman (along with Charlotte) to compete in a Hell in a Cell match. They also became the first women to ever headline a WWE pay-per-view event. In an industry where it's hard to develop a truly original idea, these women managed to make history. They also spent most of 2016 trading the RAW Women's Championship back and forth between the two. Sasha is always pushing the envelope as one of the figureheads of a new generation. We can't wait to see what new paths she will forge in the WWE in the near future.
14

A Goddess in the Ring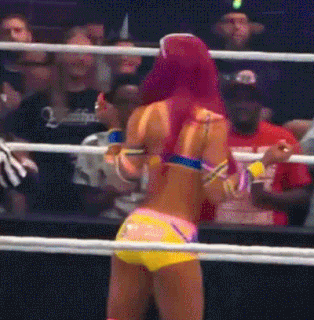 Here we see Sasha in the ring doing her signature sexy "Boss" hip glide. The successful Boss persona has been a hit for Sasha Banks so far in the WWE. She developed the character with help from her first cousin, Snoop Dogg. No stranger to the squared circle, Sasha was in the first ever WWE Women's Iron Man match along with Bayley back in 2015. The match was heralded not just by the hardcore fans, but also by industry veterans like the Hardcore Legend Mick Foley. The former NXT rivals are real life besties, which gives them a fantastic chemistry in the ring. The two are both currently on Monday Night RAW, so we're probably in for a lot more great matches in the near future.
13

Giving The Hair Flip
A fan of the WWE when she was growing-up, Sasha Banks told Chris Jericho on his podcast that she wanted more than anything to be a female version of ultra-heel Eddie Guerrero. Unfortunately, Sasha was never able to see Eddie perform live. She finally got to attend Monday Night RAW back in 2005, but as fate would have it that was the night after Eddie's untimely death. The young Sasha wasn't even aware that he had passed-away until she got to the arena for the show. The heartbroken kid had even brought along a sign to show her support for Eddie, only to be faced with a memorial Monday Night RAW. The Boss has managed to garner her own level of cult support, whether she is working heel or babyface, much like her idol was able to do.
12

Working out with Stephanie McMahon
Here we see a GIF of Sasha Banks as one of the many NXT women to participate in Stephanie McMahon's WWE Fit Series Workout DVD, before she had her hair died her signature color. Sasha was a part of this series before she had made her name in the way she has now in the WWE. She was joined by other NXT Superstars like Alexa Bliss in the DVD. Sasha was originally from California, but her family moved around a lot to accomodate the needs of her disabled brother. She eventually ended-up in Massachusetts and was accepted with a full scholarship to the Chaotic Wrestling school there. This is the same school that trained other highly successful WWE Superstars like John Cena and Kofi Kingston.
11

Oh, That Booty!
The sexy superstar has one of the most rockin' bods in wrestling. She also has a big heart to go along with it Her brother suffers from an undisclosed disability that has caused Sasha and her family to move around a lot in her youth, chasing the best hospital care for her bro. Sasha used to sneak into her brother's room to watch wrestling with him away from their mother's prying eyes when she was a kid. Sasha's mom used to be strict about no wrestling on the television, back in the pre-PG era that we live in now. Sasha's family is very important to her, including her first cousin Snoop Dogg. Snoop would take Sasha to WWE events as a kid and get her backstage.
10

Sasha's Like No Other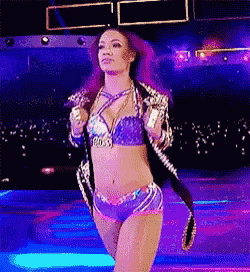 Sasha Banks may have a style that is very influenced by R&B pop culture, but her real-life interests lie with an intense love of asian culture. Which anime is her favorite, you ask? Why, Sailor Moon of course. She is also a huge nerd for K-Pop, Korean pop music. She has cited a few of her favorite bands as G-Dragon and Taeyang. She is well known for her enjoyment of not only the commons parts of manga and anime that have managed to pervade American pop culture over the past few decades, but all aspects of asian culture. There's no doubt about it, Sasha is one cool girl and she can kick some major butt too. Sounds like an all-out dream girl in the making.
9

The Boss Bites Her Lip
This GIF of Sasha Banks features a great shot of her seductively biting her lip after a win. It's little nuances like this that make the pint-sized Superstar a phenomenon. There aren't very many women in the WWE that are Sasha's size, save maybe Alexa Bliss. When Sasha began training years ago she weighed in at less than one hundred pounds. Once she began her work at developmental for the NXT brand, she started regimen of strength and weight training, along with tweaks to her diet. Her physical transformation has been very noticeable if you go back and watch some of her indie work. Sasha went from being a tiny little girl to a well-toned athlete that can hold her own in the ring against women that far outweigh her in size and stature.
8

Shakin' That Booty-O!
This GIF features Sasha in the ring with the patrons of the power of positivity themselves, The New Day. Sasha and her Team B.A.D. pals are all dancing and sporting unicorn horns in support of the happy trio. Sasha is a unique WWE Superstar, because she is always having fun in the ring. It may have something to do with the fact that she comes into the business as a die-hard fan. It's hard not to notice that shake and admire the absolute beauty and sex appeal of this young athlete. The WWE Universe is treated to everything that The Boss has to offer each week on Monday Night RAW and with her being the number on contender going into Great Balls of Fire, she may very well have the strap again soon.
7

Sasha's Fighting Spirit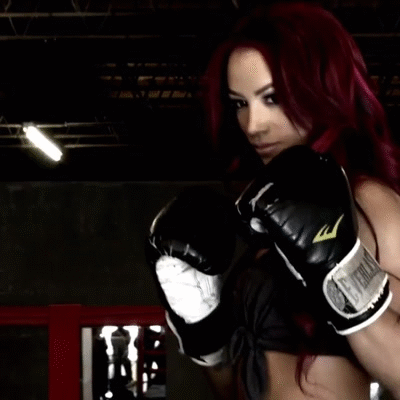 Sasha has had to fight her way to the top of the WWE with both of her fists up. This sexy GIF is a fantastic reflection of her strong fighting spirit. Not only is it often difficult to be taken seriously in an industry that can be testosterone driven and dominated by males, but also overcoming her smaller size has added to her resolve to be the best. Sasha has managed to score the Monday Night RAW Women's Championship an impressive three times already since her main roster debut in 2015. She was also NXT Women's Champion during her tenure in developmental. In 2016 it seemed that Charlotte and Sasha were just trading the strap back and forth, which wasn't far from the truth. It's a glory era reminiscent of The Rock vs. Stone Cold that we'll hopefully keep seeing for some time.
6

Keepin' It Real
It's easy to get lost in the artificial reality that the WWE presents us each week. A viewer sees thes athletes like Sasha that dedicate their lives to our entertainment, but behind the jumps, bumps, ring gear and dyed hair are real people with personal lives. Behind Sasha Banks is Mercedes, a vibrant, beautiful and fun young woman. This GIF is a great reminder of that fact. She is actually married to another WWE employee, Sarath Ton. Sarath works as a costume designer for the company. The two quietly married last year to avoid nasty comments about him from internet trolls claiming to be fans of Sasha. In reality, any real fan of Sasha would respect her privacy and her personal choices and concern themselves with what she does in the ring and on television instead.
5

Respect the Shake
Sasha Banks has no problems getting attention for her wrasslin' skills in the ring, but her looks also get her plenty of fans. The beautiful young woman has a unique and exotic look that helps her to stand out from the other girls on the roster. She also has one helluva booty shake, as evidence by this GIF taken from a backstage video. The Boss isn't just the mistress of the squared circle, she's also plenty skilled when it comes to the twerk. Sasha loves to dance and takes every chance she gets to mess around with her friends on the roster backstage and groove, from the New Day to Bayley and Summer Rae. What do you expect from the cousin of Brandy and Snoop Dogg, though? Music Is in her blood.
4

In-Ring Dominance
Here we see a GIF capturing an epic battle between Sasha Banks and Becky Lynch, as they battle for Number One Contendership to go after the RAW Women's Championship. You can see the giant WrestleMania sign looming in the background, a constant reminder of what the two women are working towards. The move we see starts with Becky trying to pop Sasha up in the air, but Sasha quickly turns it around on her, displaying her intensity and adaptability in the ring. It's easy for a competitor to underestimate Sasha based on her cute look and small stature, but she delivers a rude awakening in the ring. She doesn't just deliver some great moves, but she also takes her bumps like a Boss, as well.
3

Fun By The Pool
This GIF of Sasha Banks by the pool is such a great example of not only her sex appeal, but also her playful spirit. This is taken from a photo shoot that the WWE put together to showcase some of the female NXT Superstars having summertime fun. Sasha can be seen her playfully kicking the water in the pool, with her million dollar grin on her face. The Boss had a body made for a bikini, to be sure. This is a nice thought for a photo shoot, but in reality a WWE Superstar has to be on the road most of the year, getting very little time for relaxation. Sadly, working this photo shoot and pretending to be normal is probably one of the funner things she got to do that week.
2

Ruling NXT Like A Boss
This GIF features Sasha in her heyday down at NXT. She was the reigning NXT Women's champion and she was on top of her game. The sign we see in the audience that says "Banks is the Future" is exactly accurate. When you think of the future of the WWE Women's division there are a few names that come into the conversation and one of them is always The Boss. Whether she retains her Boss gimmick or grows past that into something more lasting, there is little doubt from the IWC that she is a rising star that represents the new generation, much the way that Superstars like Seth Rollins represent the mens division of the company. Right now we talk about the matches between Trish and Lita, no doubt we will be talking about Charlotte and Sasha in the coming years.
1

All The King's Women
It was the epic battle at WrestleMania XXX. The stage had been set for mega corporate heel Triple H to take on super babYface Daniel Bryan. It was one of the most anticipated and legendary matches in recent WrestleMania history and a few of the then newer talent in NXT got to take part in the epic Trips entrance. Here we see Sasha Banks and Charlotte dressed-up like the doting barbarian girls that remove the cape from Triple H before his music hits. These two are such recognizable WWE Superstars that they would never be put into this role nowadays, but back in 2014 they had yet to become the household names that they are today. Sasha looks gorgeous in her King of Kings gear, it's a look that suits her well.