This weekend will see WWE add another installment into the legendary Survivor Series PPV.But the night before we will again see WWE's developmental show NXT take center stage, and after the last several Takeover shows, it's hard to not be excited. The card is another good one, and while we don't have an NXT Tag Team title match, we've got the return of WarGames as fans are buzzing to see the legendary WCW match in the WWE for the first time. Whether you're a big NXT fan or just a casual viewer who tunes in for the Takeover specials, we've got 5 bold predictions for what is bound to be yet another classic installment in the already phenomenal NXT Takeover special series.
[caption id="" align="aligncenter" width="840"]
via wwe.com[/caption]
As the show is named WarGames, this Takeover is being built around the massive main event. But the best story out of any on the card is certainly Aleister Black vs. The Velveteen Dream, and although the Dream is still coming along in the ring, it is going to steal the show. Both characters are incredibly over with the NXT crowd, and with the show lacking the likes of Johnny Gargano, it's going to be the best match. The headlines coming out of the event will no doubt revolve around WarGames and the two title matches, but this will go a very long way in making both of these young men stars for the future of WWE.
RELATED: 5 NXT SUPERSTARS WHO COULD MADE THE MOVE TO 205 LIVE
Survivor Series is now a solid card after some late changes and additions, but NXT is going to produce the much better show, once again. The card may not be as star-studded as some of the past Takeover shows, but with good wrestling, high stakes and, of course, the return of War Games; it will be the better show all around. A.J. Styles vs. Brock Lesnar and the WarGames match are both main events worthy of any show, but NXT doesn't overdo it with the matches. As Survivor Series is predicted to go over 4 hours again, that's just another reason why Takeover will be the more fan friendly, enjoyable show to watch.
[caption id="" align="aligncenter" width="645"]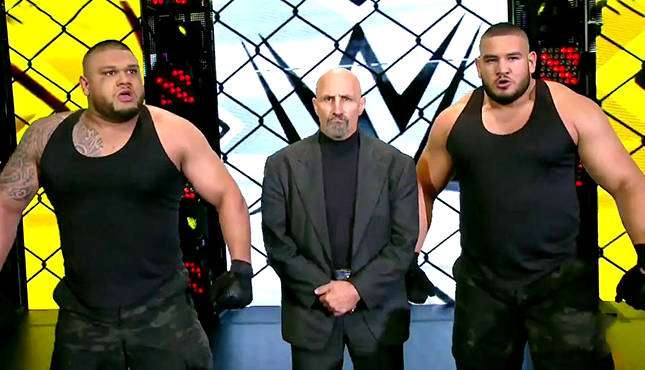 via sportskeeda.com[/caption]
When they first debuted, fans were worried that Akem and Razar were just a typical big man duo. But alongside Paul Ellering, they have improved a tremendous amount, and with more than enough tag teams down in NXT, this may very well be their last bout in developmental. Sure, they may not be at the level of other tag teams in NXT, but they've won and lost the titles and had some very good matches. With the main roster in dire need of some new blood in the tag team division, it's the perfect time to debut the monsters. A simple backstage promo from Ellering is all it would take, and like others, they may stay down in NXT to have an official goodbye during the next set of tapings. This will certainly be their last big Takeover bout.
RELATED: 5 WAYS WWE WILL RUIN WARGAMES
[caption id="" align="aligncenter" width="800"]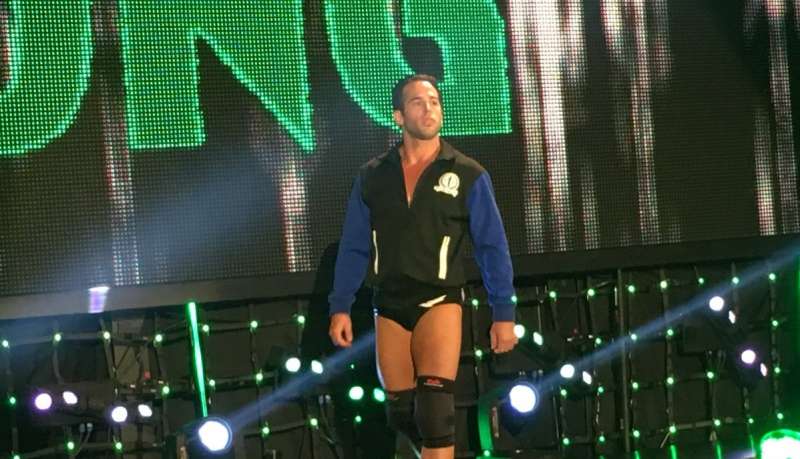 via sportskeeda.com[/caption]
This was teased on a recent episode of NXT, but Mr. ROH decided to go against his former pals Adam Cole and ReDragon, and he was paired alongside the Authors of Pain for War Games. But as we've just mentioned, the AOP are on their way out so that pairing is just a way of surprising us with the Roddy to the Undisputed turn. It makes sense that the ROH veteran would join his friends in the quest to take over NXT, but it also makes sense from a storyline perspective. As he has come so close, but come up short every time on his own, if he can ride the coat tails of The Undisputed Era, he may go all the way to the top. The match is going to be phenomenal, but this may very well be the biggest headline coming out of the show.
After Asuka held the NXT Women's Championship for an incredible 500+ days, all eyes have been on how NXT would rebuild the women's division without her. We know that the next champion will be the winner of a Fatal-4 Way between Peyton Royce, Ember Moon, Kairi Sane and Nikki Cross, but it's the latter who will come out on top. Out of all the challengers that Asuka faced during her still undefeated streak, none came closer to ending it than Sanity's Cross who almost defeated Asuka in a Last Women Standing match. While there must be a temptation to put the title on Mae Young Classic winner Kairi Sane, this is the best move. Sanity must be in consideration for a post-WrestleMania call up to the main roster, so the reign won't be long. But as we know from watching Cross over the past year, it will certainly be entertaining.
RELATED: RONDA ROUSEY SPOTTED AT NXT EVENT
Give TheSportster a Thumbs up!
Looking for an AD FREE EXPERIENCE on TheSportster?
Get Your Free Access Now!