Roman Reigns and Finn Balor are so much alike in very different ways. Neither man is fully "over enough."
But here's the thing: Vince McMahon thinks Reigns is the guy. The WWE Universe does not. Much of the WWE Universe believes Balor is over. Vince McMahon does not. As such, you have two talented superstars who are trying to be "the guy", but neither is fully over enough with the crowd or their boss.
For Reigns, he's been pushed as the next big face of WWE since winning the 2015 Royal Rumble. He has headlined the last three WrestleManias and has defeated a vast majority of the WWE's top superstars, including Triple H, John Cena, The Undertaker and AJ Styles. The only thing stopping him from really being the next John Cena is really the fans at this point.
As for Balor, he defeated Seth Rollins to become the first Universal Champion at SummerSlam 2016. Unfortunately, he suffered a shoulder injury and missed eight months of action. He's been demoted to the mid-card, with reports suggesting that Vince simply doesn't think Balor's "over enough." right now.
RELATED: FINN BALOR'S INSTAGRAM POST HYPES VENOM MOVIE [PHOTO]
So how does Reigns feel about Balor? In an interview with ESPN's Andrew Feldman, here's what Reigns had to say about The Demon King:
"The cool thing about Finn, and a lot of the guys we have, but especially his story and just his background and the time he spent in Japan and the whole Bullet Club scene and everything, I would just say he's an extremely deserving competitor, and he's in the right spot.
He's in the right light. I'm extremely happy with his progression as a character, and as long as he can keep Finn Balor doing what he's doing, the Demon is always going to be really cool. He's definitely a journeyman, but I'm happy he's continually escalating and evolving throughout this career."
[caption id="" align="alignnone" width="1200"]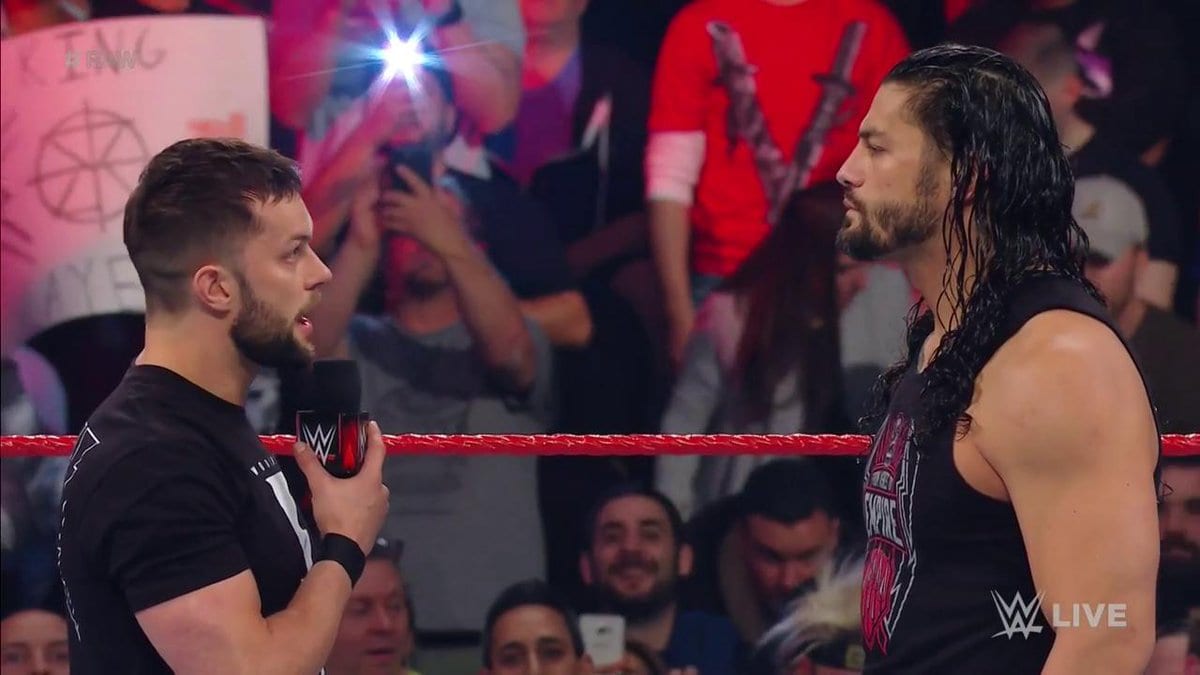 via WWF Old School[/caption]
Reigns is right in calling Balor "a journeyman." His wrestling career started at the age of 18 for NWA in the UK. Balor then embarked on a legendary career in New Japan Pro Wrestling, before eventually finding his footing in WWE.
Balor will get the chance to be fully over at the Elimination Chamber pay-per-view on Sunday. Though many expect Reigns to win the show, the creative team may have decided that Balor is over and ready to face off against Brock Lesnar at WrestleMania 34.
It's been a journey of a two years for Balor on the WWE's main roster. It's anybody's guess if he eventually gets over enough on Vince's terms.
NEXT: RUMORED POST-WRESTLEMANIA MOCK DRAFT
WWE Announces EC3 & Other NXT Stars Are Main-Roster Bound Amid Raw Overhaul