Leave it to Scott Hall to reignite the feud between the Kliq and the Hart Family.
March 8, 2018 started off innocently enough when a wrestling fan was reminiscing about WWE during the 1990s. @DamienDarling brought up the short-lived, babyface tag team of the Allied Powers which consisted of Lex Luger and The British Bulldog, Davey Boy Smith. Darling tweeted out (in a since-deleted tweet): "Lex Luger & Davey Boy Smith were everyone a kid from the 90s wanted as a tag team."
That apparently didn't sit well with another 90s star, Scott Hall. The 59-year-old Hall replied to that tweet with a since-deleted tweet of his own in which he called Luger and Smith "failed single wrestlers."
[caption id="" align="alignnone" width="798"]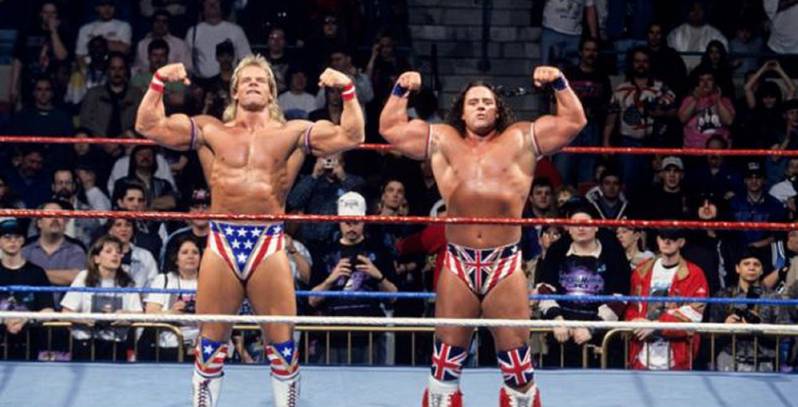 via thesportster.com[/caption]
#AsExpected, social media piled on Hall for his quip which likely would have gone unnoticed if, you know, one of the people he disparaged wasn't deceased. Davey Boy Smith's family particularly took issue with Hall's tweet as both his daughter and ex-wife called out Hall.
Georgia Smith defended her father with a tweet that started off with "F--- you @SCOTTHALLNWO.
She then continued, "my Dad was not a failed man in ANY way. Don't have the fondest memories of you as a child, & haven't seen much recently that makes me think you've changed. 3 of your 5 best matches involved my family, & you didn't win one of them."
Georgia then recounted Hall's matches with her Uncle Bret and Uncle Owen and said all of his best matches either involved a Hart or Shawn Michaels. She then followed up that tweet with a PG tweet that is safe for this website:
@SCOTTHALLNWO has deleted his tweet, but not offered an explanation to me or my family about his comments. Strange behaviour. Feel free to get in touch Scott and back up your comments to me. Oh, and have a lovely evening x https://t.co/U8fG9esGok

— Georgia Smith (@georgiasmith87) March 8, 2018
Diana Hart Smith then supported her daughter and called out Hall for being an overrated worker.
[caption id="" align="alignnone" width="750"]
via cagesideseats.com[/caption]
Not only did Hall delete his original tweet, but he has neither responded to either Smith nor sent out any other tweets since then. He seems to realize that he was wrong and is laying low hoping that this blows over.
RELATED: SCOTT HALL INVOLVED IN DRUNKEN FIGHT WITH FELLOW WWE LEGEND
An Update On Sin Cara's Status With WWE