WWE Hall of Famer Sting performed countless iconic matches against fellow wrestling legends throughout a career that spanned 30 decades. The list ranges from former WCW superstars like Hulk Hogan and Kevin Nash to WWE talents in Triple H and Seth Rollins, among many others.
But none of these guys apparently took it to The Vigilante the way current Raw general manager Kurt Angle did. In a recent interview with Justin Barrasso of Sports Illustrated, Sting explained why the Olympic gold medalist was the toughest opponent he faced:
"One of the toughest opponents I had in the early days was Big Van Vader/ But in my later years, it was Kurt Angle. They called him 'The Machine,' and Kurt is a machine. He just does not stop. He's pretty relentless and very physical. You've got to be at the top of your game to wrestle Kurt. He is a perfectionist and demands a lot of everyone around him."
There's no denying that Angle is one of the most dominant, tremendous and athletically-gifted wrestlers in history. For you kids who aren't aware, he truly won a gold medal at the 1996 Olympics in Atlanta, with a broken neck.
RELATED: ONE MAJOR ISSUE IS PREVENTING UNDERTAKER VS STING AT WRESTLEMANIA
During their days in TNA, Angle and Sting often feuded with one another, as the two were the biggest names in the promotion. This included an epic TNA World Heavyweight Championship match at the Bound for Glory pay-per-view show in 2007, won by The Icon himself. The two men were also part of the giant Main Event Mafia stable.
[caption id="" align="alignnone" width="640"]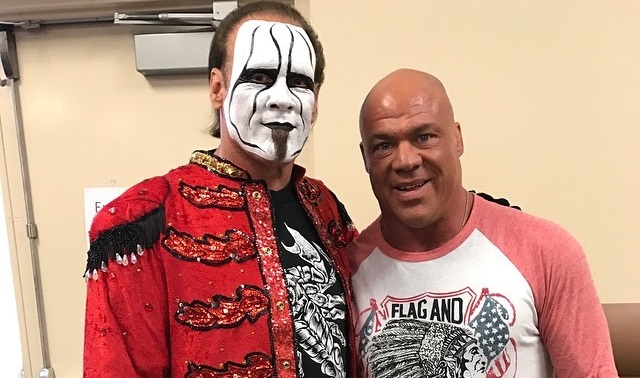 via WWF Old School[/caption]
Sting would leave TNA in 2014, and debuted for the WWE at Survivor Series that same year. A neck injury forced him to retire in late 2015, while Angle would rejoin the WWE after WrestleMania 33 - where Vince McMahon named him as the new GM of Raw.
Angle and Sting earned great respect from wrestling fans, pundits and their own peers. The two men had excellent and humble attitudes and displayed their very best every time they were in the ring. As such, it's only fitting that Sting calls Angle his toughest opponent - because both men made it harder on the other.
NEXT: STING AND SCOTT HALL AMONG LEGENDS SPOTTED IN PHILADELPHIA
The Revival And Mike & Maria Kanellis Have Requested To Be Released [Rumor]