Alexa Bliss isn't just the current reigning RAW Women's Champion, she's also cute as a button! Known by her moniker of the wicked witch of the WWE, Little Miss Bliss is a force to reckon with and a sight to behold. In her short time on the main roster Alexa Bliss, real name Alexis Kaufman, has managed to capture the Women's Championship on both SmackDown Live and RAW.
Bliss grew-up in a family that was full of wrestling fans. She was working as a professional bodybuilder, but always had the WWE in the back of her mind as a dream job, but it seemed like a pipe dream for her. One day, her trainer clued her in about the WWE Divas Search. Alexis went online to apply and found out that they were requesting video applications. She made a video, sent it in and never thought anything would come of it. It turns out, she was called out to Los Angeles for a casting call and she was able to meet with Triple H himself. Alexis marked out, as a huge Attitude Era fan, and showed not only her looks and athleticism, but her love for the industry, as well. The rest is history.
The twenty-five year old Superstar is one of the most attractive women on the roster today and these GIFs that we have collected showcase not only her looks, but her talent as well. Alexa Bliss is the hottest woman in the WWE today, as you're about to find out.
15

Oh, That Booty!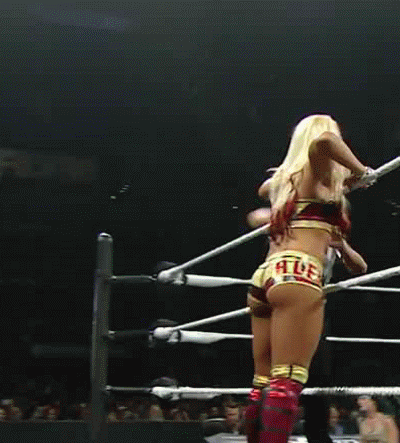 She dominated the SmackDown Women's roster and now she has taken her awesome talent, and backside, to Monday Night RAW. In one of the biggest pops of the so-called "Superstar Shake-Up," Alexa's appearance on RAW was as much a surprise to her as anyone else. She wasn't given her travel details until the last minute and instead of traveling to television taping on Tuesday, she was sent to Monday. That's how she found out about her switch. Alexa was okay with the news, though, because it paired her back up with her real-life best friend, Nia Jax.
14

Her Rookie Years

Here we see an early example of Alexa bringing her sex appeal to the ring, even in the middle of an intense match, she manages to mesmerize viewers with her good looks and formidable talent. The career of Alexa Bliss started back in 2013. She was signed to the original WWE developmental territory that eventually became NXT. Alexa spent a long time working side by side with legends like the late Dusty Rhodes, perfecting not only her in-ring work, but also her character. She went through a number of concepts, from a bubbly cheerleader type to a country western singer. Fortunately, the heel persona that we all know and love is where she would eventually land and stay throughout her NXT, SmackDown Live and now Monday Night RAW tenures.
13

A Superstar Caliber Talent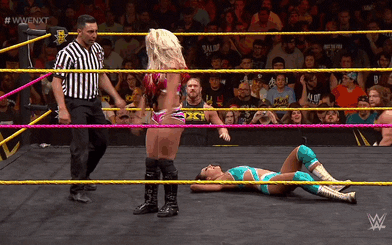 It isn't just good looks that define Alexa Bliss, although she has plenty of that to spare. She has spent a good portion of her life as a competing athlete. She has a background in both gymnastics and professional body building. They call her "five feet of fury" for good reason. Although short in stature, her size and agility only add to her in-ring ability and range. She spent about three years in developmental woking on her skills and it shows. She has been the Women's Champion on both SmackDown Live and Monday Night Raw since she debuted on the main roster only about a year ago. She was traded to RAW in the Superstar Shake-up event and ever since she has dominated. Charlotte was traded to SmackDown Live at the same time, which is a shame, because a battle between the two could be epic.
12

Alexa Gets Extreme!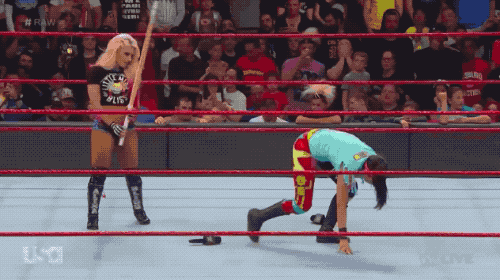 y
There's nothing sexier than a woman that can get extreme and Alexa has proven that she can do just that. In a recent feud that culminated at the Extreme Rules pay-per-view, Alexa and Bayley were engaged in a battle that was supposed to peak with a kendo stick on a pole match. Bayley assured audiences and WWE officials that she would be able to step-up when it was time and get extreme with Alexa, but the fans knew that wasn't ever going to happen. What was fairly certain, however, was that the wicked little witch of the WWE would have no problems getting extreme in the ring with Bayley and she did not disappoint. The moment that she was able to get her hands on that kendo stick, Alexa went after Bayley and didn't stop.
11

Alexa's Bodybuilding Days
You may not know this, but prior to entering the WWE, Alexa was a professional bodybuilder. She even met Arnold Schwarzenegger himself at one of his events. Perfectly happy with the life of a bodybuilder, Alexa spent a lot of her time on stringent diets. She has recalled that she is a lot happier in the WWE, not only because she is able to live out her childhood dream of being a WWE Superstar, but also because she had to put on weight to compete in the company, so her crazy diet fell to the wayside.
The sexy and toned Superstar spent her childhood play wrestling with her cousins, pretending to be Lita. She heard about the WWE Diva Search through her trainer and the rest is, as they say, history.
10

Corporate Bliss

This GIF shows a far more casual Alexa working out and appearing to enjoy herself. That's because this is taken from the boss lady's workout video from the WWE Fit Series. Stephanie McMahon needed some bodies to flesh out her workout crew and NXT was the perfect well to draw from. The talent there was excited just to be asked and didn't hesitate to take an opportunity to gain from brownie points with corporate and Mrs. McMahon herself. The video was filmed in the NXT workout room, along with other NXT Divas. Alexa looks gorgeous, as usual, even without all her fancy ring gear. She has a strong history based in athletecism, rather than beauty, but that doesn't stop her from looking phenominal in this WWE workout video.
9

Total Heel Attitude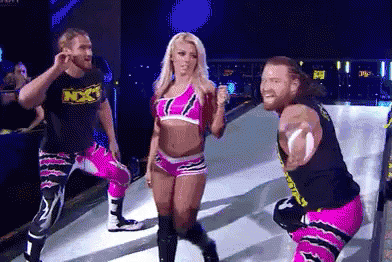 The time that little miss bliss spent in NXT started as a babyface, but she was soon transitioned into full-on heel mode. When this happened she was paired with the tag team of Blake and Murphy. She recounts a story where she showed-up for a televsion taping right after she turned heel and they asked her why her hair wasn't red. Confused, Alexa inquired and apparently she was supposed to dye it to signify her turn, but no one had told her. This little mishap aside, no one does heel like Alexa Bliss. She has the appearance of an adorable little polly pocket doll, but a fantastic nasty attitude to go along with it that gives her an edge in the ring and on the mic.
8

A Nightmare on Bliss Street
Alexa enjoys cosplay to a really cool degree. She often plays with her outfits and personas, from The Riddler to Harley Quinn, she is an all-out proud dork. One of the very cool costumes she has played with is her Freddy inspired look from the Nightmare on Elm Street horror series. Alexa donned it last Halloween, and it was truly wicked. The irony is that Alexa is actually really scared of horror movies, but despite that she appreciates and enjoys the characters that have been born from them. It takes a truly beautiful woman to be able to make Freddy Kruger sexy, but Alexa manages to pull it off. The ultimate heel dressed as the ultimate supernatural villain, it seems like a match made in hell!
7

A Sexy Entrance
The mark of any good Superstar is their entrance. When that music hits, it had better make an impact to get a good pop out of the live crowd. Alexa has a great theme song and an even better presence on her way to the ring. There are some Superstar that will walk or run to the ring, but she makes her way there with a swagger that oozes the every essence of her character. Not only is she in character, but she looks phenomenal while doing it. She never disappoints in the ring, whether it's wrestling or talking, so when the music hits and Alexa Bliss flashes across the Titan Tron, you can feel the anticipation in the crowd and the pop that she gets is always a big one.
6

Winning With Style
Alexa is such a great heel that she even continues to taunt her opponent once she leaves the ring. Alexa got a great education when it comes to the wrestling industry. When Alexa was growing up her entire family would gather around the television each week to watch Monday Night RAW, it was an event for the cousins, her parents and grandparents alike.
Alexa's family is full of fans, especially her grandmother. Alexa told Chris Jericho recently on his podcast that her grandmother was obsessed with the sport, especially the late legend Dusty Rhodes. Her grandma fancied Dusty so much that she might have been his number one fan. It would eventually be the son of a plumber himself that would help Alexa to develop her character. Wouldn't her granny would be so proud?!
5

Awww, Poor Baby!
Here we see Alexa proudly holding her RAW Women's championship high in the air, taunting her opponent from the ramp. Alexa is the ultimate champ, complete with a champion's confidence. Her attitude is as sexy as her look. Alexa has been dominating the roster ever since she debuted last year during the WWE Draft. Her tenure on SmackDown Live is done, for now, but she is still reigning over Monday Night RAW as the champion. There doesn't appear to be any woman able to stand her ground with Bliss, except possibly her real-life bestie, Nia Jax. The champ doesn't want any part of Jax and has avoided a match with her at all costs. The clues are pointing to a possible confrontation soon, though, so Bliss had better prepare!
4

One More Booty Showcase
We figured another gratuitous Alexa Bliss booty shot was long overdue on the list. Not only do we get a gorgeous image of Alexa, we get to watch her beat on Bayley, which is always satisfying. The queen of mean will often dominate Bayley to this day. In fact, their Extreme Rules match this year could be considered an absolute bloodbath. Bayley has tried to fight back and step-up her aggression, but it remains to be seen if she will become a serious contender for the belt. Alexa Bliss is not to be trifled with and a happy-go-lucky goofball like Bayley just doesn't have what it takes to stand-up to a "blissed-off" Superstar. Alexa is truly fight feet of fury and her ferocious offense is just too much for the other women of the WWE.
3

The Real Alexa
Any smark with their weight knows full well that the character that a WWE personality portrays in the ring isn't necessarily who they really are. Truly, they do try to take the real persona of a wrestler and dial it up to 100, but in Alexa's case she is really a far more friendly and smiley person than you may realize. Her real-life personality is a lot more like her original perky NXT character than her ultra-snotty heel persona. Just check out that gorgeous smile and glow in this GIF! Alexa is die-hard wrestling fan, athlete and all around nice girl. That just goes to show what a high-quality entertainer she is, because you'd have no idea that she wasn't the bad attitude bully that she plays on television.
2

NXT Alexa
Alexa had a strong foundation in NXT before coming to the WWE. She recounted her experience to a very jealous Chris Jericho on his podcast, noting that life on the road for the roster there was very different than it was when Jericho was coming-up in the business. The NXT roster is driven around on a bus during their tours and they get hotel rooms paid for. They stick to a tight schedule and are provided a lot of guidance and support not only in the ring, but in developing their characters. When she made the move to the main roster, it was time to change over to a more independent travel schedule. Alexa chose to start riding with fellow NXT alumni Carmella, as they both came-up at the same time.
1

Championship Swagger
This is one of our favorite Alexa poses, when she hits the ring and pulls the belt behind her back and gives the camera a sly wink. Her presentation of the belt is so unique and it just adds to not only her character, but her overall appeal. Little Miss Bliss isn't used to losing and it doesn't happen often. She has a great track record on the main roster and has managed to dominate her competition. We see her here with the SmackDown Live Women's championship, which is now in the hands of Naomi. Bliss is the total package when it comes to the wrestling industry, not just a pretty face, but also an amazing athlete and in-ring talent. She will definitely be one to watch in the coming years.