Fans of the WWE know Lana best as the Ravishing Russian valet to the Bulgarian Brute, Rusev. She has been parading around the ring for a few years, spewing her disdain for America and coaching Rusev through his matches with her catchphrase, "Rusev...Crush!" Lana has a great Russian accent, because the real woman behind the character spent a significant amount of her youth overseas. Once you begin to peel back the layers of Lana, you find a fascinating woman that has found success in multiple facets of the entertainment industry. Lana, real name C.J. Perry, has worked as a model, singer and actress. You may have seen her in her roles in series like Showtime's Banshee or feature films like Pitch Perfect. She's unique, because she found her success in other realms prior to joining the WWE, rather than because of it.
Fans saw yet another side of Lana when she became a full-time member of the Total Divas cast in season six of the E! network reality series. Appearing without her kayfabe accent, fans got a peek not only inside the life of Lana and her personality backstage, but also her real life relationship with Rusev, whom she is now married to. The pair allowed their journey to having two weddings in different parts of the world, in order to please both parts of their families. We also get to see her extensive backstage interactions and relationships with the other women of the WWE, which we'd have no idea about without the series. Lana and Rusev are both coming to Smackdown Live! soon and apparently Lana will be working a new character angle. In honor of her upcoming debut, we give you 15 must see sexy GIFs of Lana.
17

Lana's Entrance
The Ravishing Russian always makes an impact when she enters a WWE arena. She used to come out and announce Rusev, taking a moment to make this sultry turn and show off her brand of grim intensity, blended with sexuality. There was no better way to bring attention to the entrance of the massive Bulgarian Brute than to preface him with a powerful introduction from Lana. There was a time when Lana was so over with the WWE Universe as a character that they would engage in chants of "We want Lana", until the valet would make her appearance. It's very rare that a valet gets more over than their wrestler, but this definitely one of those exceptions. The chants can still be heard today, from time to time.
16

Lana Shows Her Skills
In this sultry GIF Lana shows off one of her in-ring performance outfits, along with her flexibility. Lana has been working a number of house shows over the past year, with both WWE and NXT, trying to develop enough in-ring ability to match her fantastic skills on the microphone. The benefit of coming into the company as an already seasoned actress is that she is comfortable in promos and is able to react and banter well with other talent, which is a skill that seems difficult to teach to so many athletes. Lana enjoys getting in the ring as a wrestler whenever possible. She can be found often talking-up her in-ring work and ability on the reality series Total Divas this season, not to mention her dancing skills.
15

Do The Fandango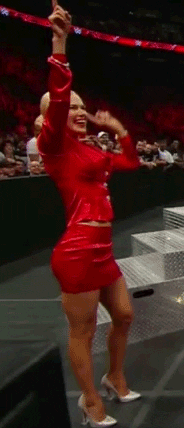 This GIF of Lana doing the signature Fandango dance came from an episode of Monday Night RAW back in 2015. Rusev and Fandango were engaged in a match, and while Rusev was recovering on the other side of the ring, Lana engaged in this dance with Fandango himself, in a flirty exchange between the two. Rusev saw this as a betrayl and began to berate her in front of the audience, demanding that she return to backstage, which she complied with. This would lead int that Dolph Ziggler story arc, which sucked all the joy out of this great heel duo. Fortunately, Lana and Rusev are all better now, though they're embarking on solo careers on the same show soon. Hopefully we'll get them back together on screen sooner than later.
14
13

Lana Lays the SmackDown!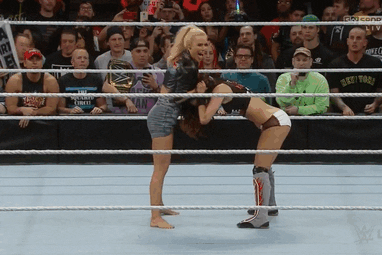 The Ravishing Russian isn't just out their for looks. Lana has been training in her spare time to prepare for more ring action too. Here we see her on an episode of Monday Night RAW from last year, where she performs her finisher, a Sitout Facebuster that she has called the Bella Buster and the Lana Buster. There have sometimes been comparisons made by the fans between Lana and former WWE Diva Eva Marie, since neither came into he business with any experience, but Lana has shown herself to be a quicker study than Eva when it comes to her ring work. Lana is absolutely dedicated to keeping-up with her Superstar husband, although she hasn't had as much opportunity in the squared circle as many fans would like, at least at televised events.
12

Lana's Modeling Days
Lana has had careers in acting and modeling prior to her time in the WWE, under her real name C.J. Perry. This sexy bikini GIF is from a video collection of a photo shoot she did called "Summer Obsession". She models a variety of sultry swimsuits in the playful shoot. Her experience posing and playing to the cameras in modeling has definitely given her an advantage when she went to the WWE. One of Lana's biggest strengths, besides the fact that she oozes confidence, is her ability to pose, turn and move seductively in front of the live WWE crowd. It's not surprising that she had a stint in modeling with that million dollar smile. She's had the chance to flex her modeling skills in some photo shoots with the WWE over the years, and will probably do so again sooner than later.
11

Rusev Crush!
One of the best parts of watching Lana valet Rusev to the ring over the years is her various outfit choices, which typically involve a short, tight skirt. When she leans over the ring to deliver her signature "Rusev Crush!" catchphrase to signal Rusev's finisher, its the highlight of the evening. Those "we want Lana" chants ring out for good reason. She's had a number of different outfits over the last few years, many of them various color and style variations of her low-cut business suit/miniskirt combos. Rusev is a fantastic athlete in the ring, but it's easy to get distracted whenever Lana's near. She hasn't deviated much from this look, with the exception of her time with Dolph Ziggler, where she sported the denim 80s rock attire.
10

Lana's New Hair
Lana has spent most of her time in the WWE sporting her bleach-blonde hair and a pulled back tight bun, as a signal of the staunch and severe nature of her character. It isn't often that Lana could be caught with her hair down or in any semblance of a relaxed state. This look with a more relaxed hairstyle came from her time in NXT. She spent time in the ring as a competitor and as a valet for various Superstars in training, before finally being paired with Rusev, where she has been ever since...well with the exception of that awful Dolph Ziggler story arc. Thankfully, that's in the past and we can look forward to the debut of her new character on Smackdown Live! soon.
9

Wardrobe Malfunction
Its not uncommon for the women of the WWE to encounter the occasional wardrobe malfunction. It's been done on purpose at times and by accident too. Everyone from Nikki Bella to Rosa Mendes have had infamous issues in this department. This time it was on a episode of Monday Night RAW while Lana was involved with Dolph Ziggler in a much reviled and confusing storyline last year. It was during this time that she changed her attire to match Ziggler's 1980s style, sporting a denim miniskirt. It was that skirt that would ride-up in front of the live audience and expose more of lovely Lana than was planned. It may have been a mistake, but it was a welcome sight for those lucky enough to catch it.
8

Lana Goes Online
The life of a WWE Superstar is one that is full of busy touring and workouts. It isn't uncommon to find them discussing and posting about their diets and workouts online via their various social media accounts. Lana is an avid poster to her Instagram, where you can find plenty of sexy pictures of her various workout and short videos like this one. It's cool to see all the work that goes into being a WWE Superstar and the candid looks at the hot bodies that result from all of their hard work. Here we see Lana showing off her sexy Calvin Klein workout gear in what appears to be a hotel room. Not surprising, since a WWE Superstar could easily spend three hundred days a year on the road.
7

I Wish That I Had Ziggler's Girl
There comes a time in every WWE on-screen relationship when things must sour. It's just part of the gig, no matter how unified a tag team, faction or valet/wrestler relationship may seem it will eventually fall apart. The eventual split is always intended to lead into an engaging storyline. In the case of Rusev and Lana the split not only came too soon for many fan, but it felt very forced. This GIF features Lana taking a moment to show off her new look to the live audience. This was during a time when Lana was paired with Dolph Ziggler as his valet/love interest opposite Rusev and Summer Rae. The kayfabe angle was quickly ruined when Lana and Rusev announced their real-life engagement on social media.
6
5

Oh, That Turn!
Here we have Lana in all her beauty, turning to show the audience her amazing figure. Lana isn't just a beauty, though, she is amazing on a microphone. You hand lana a stick and she will deliver a flawless promo every time. It's her history with acting on the big and small screen that gave Lana a leg-up on the other talent when it comes to delivering a line. Her acting talent may have landed her a role in Pitch Perfect and Pitch Perfect 2, but the fans of the WWE are fortunate to have such a seasoned and talented woman, not to mention a beautiful one, gracing their televisions each week. We don't know much about Lana's new character that is debuting on Smackdown Live! soon, but hopefully she'll make the same great wardrobe choices!
4

Denim Beauty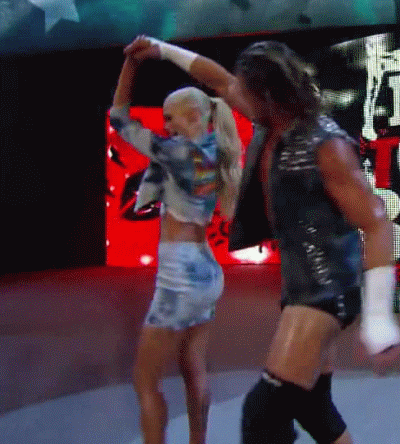 Okay, so I know we've featured the Ziggler storyline outfits a lot in this list, even though it was a huge failure and a waste of television time, but we keep showcasing it for good reason. What's the reason, you ask? Do you really need to ask? We think that this amazing GIF speaks for itself. It could just be me, since I grew up in the 1980s, but the denim skirt look is really quite appealing. That's not to mention her sexy moves and oh, that wiggle. Lana never disappoints in or out of the ring and it's hard not to be mesmorized by her. It doesn't seem to matter if she's with Rusev or valeting for another WWE Superstar, she's always a welcome sight to see.
3

The Early Years
Lana began her career with the WWE by joining the NXT developmental brand first. This GIF is from her NXT days, where she trained for in and out of ring action. Her skills as a valet developed here when she was paired with Rusev and the two had instant chemistry together. Soon, they were called-up to the main roster and not only did they hold their own, but they managed to carve out a large piece of the main event picture for Rusev. Now, we can see Lana not only on WWE television, but also on the Total Divas reality series, which is quite a compliment to her presence in the company. If you haven't caught her on Total Divas then you should tune-in, it shows a whole other side of Lana.
2

Fear Lana's Spear!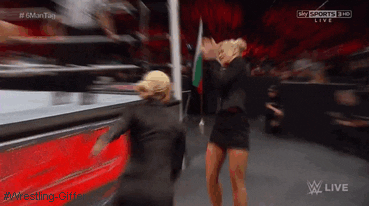 Don't mistake Lana for just another pretty face. No, she can hold her own as a fighter. You can see her pulling off a fantastic spear against Summer Rae in this GIF selection. This was during that storyline (yep, we're talking about it AGAIN!) with Dolph Ziggler, where Summer was paired with Rusev as an on-screen love interest. Here, we see Lana's anger and jealousy take physical form as a wicked spear, after which she mounts Summer and begins to punch her repeatedly. This feud never got to find any sort of groove, but Lana was finally given some chance to show off her in-ring work on the main roster. She will be doing so again soon, and has been working live shows with NXT recently for practice.
1

The Ravishing Russian
Sadly, this is the final entry on our list. We hate to see her go, but we are confident that the lovely Lana has a very bright future with in the world of WWE. She and her real life Superstar husband Rusev are major stars that still have yet to scratch the surface of what they're capable of bringing to the industry in and out of the ring. The dastardly duo will no doubt be together again when the time is right, but for now Rusev has a snazzy new haircut and Lana is apparently taking over the Emmalina character that Emma was unable to execute. Hopefully she will retain her Russian accent, otherwise its going to get weird, like Kofi Kingston forgetting his Jamaican accent on live television weird.