WWE's signing of Ronda Rousey could go down as one of the greatest moves in company history. Or, it could be a major flop and disappointment. After all, not every professional athlete that joins the squared circle leaves a lasting legacy - just ask Karl Malone or Dennis Rodman.
Rousey will formally sign her WWE contract at Sunday's Elimination Chamber pay-per-view, and is expected to have her debut match at WrestleMania 34 in New Orleans.
And though many expect that Rousey will receive a major championship push almost off the bat, it doesn't appear as though the WWE Universe wants it that way. WWE.com shared a poll and asked fans to vote for the following: Should Ronda Rousey get a Raw Women's Title opportunity immediately?
Thus far, 70 percent of voters have said "No. The MMA star needs to prove herself inside  the squared circle first." The other 30 percent said "Yes! I want to see Rousey challenge for the title right away!"
RELATED: WWE ANNOUNCES RONDA ROUSEY'S NEXT APPEARANCE
There have been different reports about whom Rousey could face at WrestleMania. Asuka will eventually make her choice on if she wants to face Charlotte or Alexa Bliss for their championship, with Rousey possibly facing the other.
[caption id="" align="alignnone" width="720"]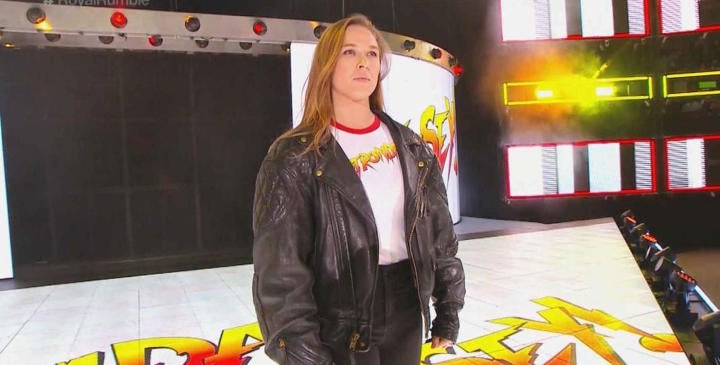 via CBSSports[/caption]
Given the success of WWE superstar Brock Lesnar - who made a bold choice to leave UFC and rejoin the squared circle in 2012 - there's optimism about Rousey's decision to join the wrestling industry. It could be a major home run for the WWE, if all goes accordingly.
We know a vast portion of the WWE Universe is thrilled about Rousey joining the company. But according to the polls, most believe the former UFC talent has to earn her shot. We'll see if the creative team goes with the majority of voters soon enough.
NEXT: NIA JAX AND RONDA ROUSEY CLASH ON INSTAGRAM
Becky Lynch Has Still Not Been Fully Cleared To Return To Action